Skeptic Turned Ambit Advocate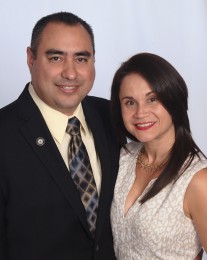 Although Alfredo graduated with a degree in electronic engineering & communications from Universidad Autonoma in Nuevo Leon, Mexico, his first job out of college was completely unrelated to his degree and ultimately unfulfilling. Eventually, Alfredo managed to own his own business in the same field he worked in after college: international commerce and customs.
While Alredo loved owning his own business, it wasn't until 2007 that he achieved his biggest goal: to become a businessman in the United States. "I built my business with offices and a big warehouse to receive merchandise from my Mexican customers, and I've had success in both of my businesses in Mexico and the U.S.," Alfredo said.
In 2010, the recession caused Alfredo's business to slow down, so he started looking for other career opportunities. In his search for an alternative business, Alfredo knew he needed to find an opportunity where he wouldn't have to invest a large amount of money, but would still earn a solid income.
I Was Skeptical At First
When a friend from Taekwondo class of Alfredo's sent him a link to some Ambit Energy videos, he was intrigued, but unsure. In fact, when Alfredo first discovered Ambit Energy, he was skeptical. Alfredo had invested a large sum of money in his previous business and didn't believe those who assured him Ambit would become a productive business with a minimal upfront investment.
Eventually, Alfredo understood the benefits of Ambit. "At first I saw it like an extra income and felt satisfied with the residual which paid for my monthly vehicle expense," said Alfredo. "After being active in Ambit for about a year, I've exceeded that goal." Now Alfredo can pay for a luxury vehicle, his mortgage and his weekend expenses with his family, such as going out to eat, going to the movies and shopping.
Ambit Helped Me Grow
Aside from the financial benefits, Alfredo says he has grown as an individual as well. "My biggest accomplishment in Ambit has been to beat the fear to talk in public," he said. "I'm not an expert, but I manage this fear and I've been preparing more and more every day." Now, Alfredo just wants to help others achieve success.
"Something very important in this business is that I've learned that success comes from helping other people meet their goals and dreams," said Alfredo. "The more you help your team, the more your own goals and dreams meet themselves." Alfredo's advice to those starting off with Ambit is to be prepared, be patient and be persistent.
However, Alfredo also knows he wouldn't be where he is today without passion. "When you mix knowledge, perseverance and passion, success is triggered," he said. Now, Alfredo envisions his life free of economic worries, where he can help others meet their goals. Alfredo has made it his personal goal to become better and more professional as he continues to grow with Ambit. He also hopes to someday make his passion for Ambit into his full-time career.
My "Why":
Having time and money to enjoy with my family
Time spent working our Ambit business:
15 hours per week
The single most effective success tool, factor or influence for growing our business:
One-on-one presentations, business dinners and training
My favorite thing about AMBITION:
Announcements, promotions and guest motivational speakers such as John Maxwell
Thanks to the five SCs who helped me reach EC:
Edgar Garcia, Marcela Flores, Susana Olvera, Natalia Maya and Cinthia Muniz.
---
Featured Consultant
At Ambit Energy, we're inspired, proud, and even awed by the success stories we hear from our Consultants every day. Learn what motivates some of our top Consultants, read why they decided that Ambit was the right company at the right time, and maybe even pick up some inspiring tips to help you build your own business and achieve a similar level of success!