Small Town, Big Dreams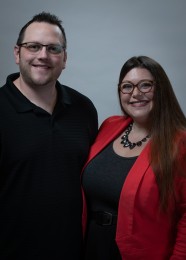 Growing up in a small town in western New York state, Jeff Brown, Jr. knew he wanted to be part of bigger things. He headed off to college and studied Computer Information Systems, got a job and started to climb the career ladder. But while he found success, he also found himself working long hours, taking on lots of responsibility and not getting the recognition or compensation he deserved. He also found he missed working with people. Luckily, he did meet one special person – he started dating Laura, the Ambit Senior Consultant who would later become his wife and business partner.
"She didn't want to mix business with pleasure, but I accompanied her on a trip to Dallas for AMBITION. Needless to say, I signed up and the rest is history," he says.
New Goals
"I never expected to be an Executive Consultant," Jeff says. "I only expected to bring in some extra money. Now my wife and I dream of being retired by 40 and of making sure our children are set for life." He's also proud of the many friendships he's made as he's built his business and introduced others to the Opportunity. "I feel like our next leaders are people we've already spoken to!"
Jeff also points out of having a "Why" that truly motivates you. "Initially, I was in it for the money. Once my "Why" became more specific, I achieved greater results, even though my "Why" has changed several times over the years."
Helping Other Achieve Their Dreams
Jeff enjoys helping others "realize what they have control over is the key. Once you can get someone to focus on what they can control, success can be better defined." His advice to new Consultants is simple: "If you start making excuses, you've already failed. The best thing you can do is not make assumptions, do the work and blame no one other than yourself. If you need some downtime, take it, but get right back up on the horse."
Five EC Pieces
My/ our "Why?"
To make it so that I do not have to work when I am out of commission with my migraines.
Time spent working my/ our Ambit business:
Daily operation. Always work Ambit while we are out, not going out to do Ambit.
What was your single most-effective Success Tool, factor or influence for growing your business?
In NY I would say the Public Utility Commission acknowledging Ambit as one of the few ESCO's that save people money.
Name your favorite thing about AMBITION:
The special guests!
Thanks to the five SCs who helped me/ us reach EC.
Unfortunately a few of the SC's that helped us get there are inactive. But a special shout-out to Shelly Wilson for doing what it takes!
---
Featured Consultant
At Ambit Energy, we're inspired, proud, and even awed by the success stories we hear from our Consultants every day. Learn what motivates some of our top Consultants, read why they decided that Ambit was the right company at the right time, and maybe even pick up some inspiring tips to help you build your own business and achieve a similar level of success!