Sold on Ambit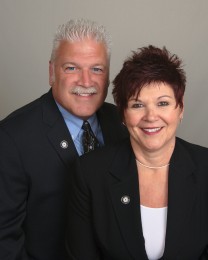 Mary Certo was sold on Ambit during a visit to a car dealership. While she was there, a friend told her about the Opportunity, and then Mary watched the 5-2-6 video online. "It just made perfect sense," she says. Still, it wasn't until two weeks later that she told her husband Peter that they were in the energy business. He supported her decision, and just three days later the couple promoted to to Regional Consultant.
For Mary and Peter, Ambit was a chance to "explore new adventures and see a brighter future for our five children and five grandchildren." Both already have successful careers—she is a real estate broker and he owns one of the largest beer distributorships in New York—but both were looking for an income stream that would enable them to retire early.
More Than They Bargained For
While the Certos were pleased with the added income from their Ambit business, they soon found rewards that went beyond money. "We had never experienced this type of company," Peter says, "and it is far more rewarding than we could have ever imagined." Both enjoy working with other Consultants, helping them to establish their businesses, set goals and achieve their dreams. "We really appreciate being part of this great company," Mary says.
Despite their success, it hasn't always been smooth sailing. But the experience of overcoming challenges has been valuable, too. "Sometimes it was frustrating. Although we are successful business people, we had to learn to ask for help. We also learned the value of teamwork and great leadership," the couple says.
Full Speed Ahead
The Certos are proud to have achieved Executive Consultant status as well as Pure Energy Award winners, but know their Ambit experience is only beginning. "We want to expand into new markets and help others achieve their dreams," they say. "We are always available to help anyone who asks, regardless of team affiliation.
For new Consultants, the Certos suggest "Do something every day, no matter how small. And always be coachable."
Sound advice from a couple who have always been successful, but discovered a whole new level of Financial Freedom with Ambit Energy.
Five EC Pieces
My / our "Why?"
Family and community legacy
Time spent working my/ our Ambit business:
Approximately 10-15 hours a week
What was your single most-effective Success Tool, factor or influence for growing your business?
Home presentations
Name your favorite thing about AMBITION:
Everything
Thanks to the five SCs who helped me/ us reach EC.
Peter Michael Certo
Katie Bruechman
John Mang
Liz Buchanan
Derrick Martin
---
Featured Consultant
At Ambit Energy, we're inspired, proud, and even awed by the success stories we hear from our Consultants every day. Learn what motivates some of our top Consultants, read why they decided that Ambit was the right company at the right time, and maybe even pick up some inspiring tips to help you build your own business and achieve a similar level of success!