Starting Over With Ambit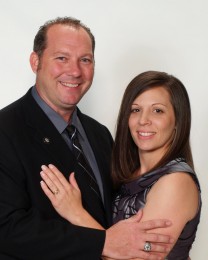 For more than 20 years, Brandon Wilson owned and operated a remodeling business in Chalmette, Louisiana. The business was successful and then, suddenly, it was all wiped out in a matter of hours.
Chalmette lay right in the path of Hurricane Katrina, and in 2005 Brandon and his family were among the thousands of people evacuated to Texas. Their possessions were reduced to a car, a suitcase, each other, and their faith. Everything else, including the business he had worked so hard to build, was gone.
Brandon wasn't the sort to wait for someone else to solve his problems. With reimbursement for his losses slow to come from both the government and his insurance company, he set to work getting remodeling jobs in Texas. He also learned about another opportunity from a friend, SC Dale Fout, who talked to him about Ambit.
"I saw I could make money on something people need every day," Brandon says. "I could get financially free and get my time and money back."
A roof over his family's head, and more
"My initial expectations were to do Ambit part-time and make enough to pay my house note, and I did that. Then I started setting new goals, and reached those. Now I want to be totally debt-free, and I'm on my way to that."
Brandon is quick to credit his team for his success. "Our Ambit team is a win/win team. If it wasn't for them, I wouldn't be in this business. My up line, NC Esther Spina, helped me from day one." He also enjoys more free time thanks to his Ambit success. "I can go to Louisiana to visit my family, have weekends off, watch my kids play ball, and get them off to school, all the things I couldn't when I was remodeling."
Building for the future
Brandon has advice for new consultants. "Don't let your personal storm keep you down, move forward and get out of the storm you are in. Keep going forward no matter how many no's you encounter. Dream big, keep the end in mind and be proactive every day."
He also has big plans for his own future. "I want to own and operate a House of Hope one day, a place to help kids who have been abused, wives that are dealing with domestic violence, kids with parents who are in prison or on drugs and give them hope again. We will be able to give them shelter, food, clothing, and a sense of God's purpose for their life. We have already begun supporting this in Freeport, Texas, and want to spread it all over the USA."
It's an inspiring vision. And one that can come true for someone who knows as much about building—and rebuilding—success as Brandon Wilson.
My "Why?"
"Financial freedom and spending more time with my family. Supporting the "House of Hope"
How many hours a week do you work your Ambit business?
15-20 hrs
What was your single most-effective Success Tool, factor or influence for growing your business?
Getting people to meetings and following up with prospects
Name your favorite thing about AMBITION.
The energy that's in the place is just awesome. Learning about the new things Ambit has for the New Year.
Thanks to the five Senior Consultants who helped me become an EC.
Eugene Wilson Jr , Brian & Danyelle Burgess, Brenda George, Marcella Willhoite, Stephen & Stefanie Janicek
---
Featured Consultant
At Ambit Energy, we're inspired, proud, and even awed by the success stories we hear from our Consultants every day. Learn what motivates some of our top Consultants, read why they decided that Ambit was the right company at the right time, and maybe even pick up some inspiring tips to help you build your own business and achieve a similar level of success!