Succeeding Beyond His Estimations
Fred Damon, Executive Consultant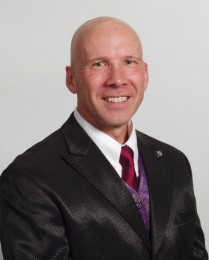 EC Fred Damon spent 18 years crunching numbers and calculating costs as a Construction Estimator for a large general construction firm in northern New York. So he knows a thing or two about money, and what it takes to make a successful business proposition.
"All my life I've been approached with business proposals," Fred says. "They all required that I had to Number One sell, Number Two maintain an inventory and Number Three you could buy the product cheaper at Wal-Mart. So I always said 'no' to those types of business opportunities."
That all changed about two years ago when his son, a police officer in Syracuse and Air Force National Guard member, called and asked Fred to take a look at a 20-minute video. The program turned out to be about Ambit, and Fred was immediately intrigued. "It's electricity. Everyone I know and everyone I don't know uses it, and like most people I just love helping other people. That's what we do in this business—we help people save money and give them the opportunity to become financially free."
Fred didn't have to run a lot of numbers to see how that would work for him. He signed up immediately, and started to build his business.
How To Construct A Successful Business
Like many Ambit Consultants, Fred appreciated the fact he could work his Ambit business part-time, without leaving his regular job. Still, even though working full-time, he and his son Josh saw their businesses grow. "After about two months we both made Regional Consultant. Then Josh was deployed to Afghanistan as part of his National Guard duty. When he returned home, he founded he had added over 1,000 Customers and been promoted to Senior Consultant while he was thousands of miles away serving his country."
Fred recommends that new Consultants "stay plugged in and never give up. Whether you have guests at our weekly meetings or not, it's important to be there because it will keep you encouraged and motivated throughout the week."
It's also important to stay involved as you start to climb the ladder of success. "I am here for my Consultants and team members in any way possible, doing three-way calls, weekly presentations, home presentations, training, whatever they need."
More Than Just Financial Rewards
Fred has achieved a high level of financial success as an Executive Consultant, and he is eagerly planning to move into new states and territories as he pursues National Consultant. But he enjoys other rewards even more. "I truly love doing Ambit because I know each and every day when I approach someone I'm truly acting in their best interest. I tell people other than the investment I make at my Church each Sunday, this is the best investment I ever made!"
With the firm foundation he has built, there's truly no limit to the success Fred and his family can achieve with Ambit.
My why
I love helping people
Time spent working our ambit business
About 2-3 hours a day
What was your single and most effective tool for growing your business
Building a long list and then continueing to follow up
Name your favorite thing about ambition
Meetingso many wonderful, encouraging, and motivated people
Thanks to the 5 SCs that helped me reach EC
Abigail Damon, Andy Jennings, Corwin Christman, Alec Wendell, and Linda Burdick
---
Featured Consultant
At Ambit Energy, we're inspired, proud, and even awed by the success stories we hear from our Consultants every day. Learn what motivates some of our top Consultants, read why they decided that Ambit was the right company at the right time, and maybe even pick up some inspiring tips to help you build your own business and achieve a similar level of success!