Success Was in the Cards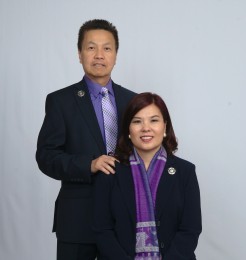 Simon and Susan Ko know a thing or two about playing the odds. They both work at a popular California casino, and as Simon says, "I was thinking about retirement, and I knew Social Security would leave me with a significant shortfall. I liked the idea of a part-time business that would gain traction over time." He recognized that Ambit created a win/win situation, with Customers getting great service at a competitive price and Consultants having the opportunity to grow a business as part of a major company. Simon liked those odds.
Still, it wasn't easy. Susan was less enthusiastic about the new business venture than her husband. She wasn't confident about the network marketing model, and was concerned her lack of experience might hold them back. Simon's own brother wouldn't become a Customer. And for the first seven months, the Kos didn't recruit a single Consultant to their network. But the couple didn't give up.
Not Their First Challenge
After all, this wasn't the first challenge the Simon and Susan had faced. Both were first-generation immigrants from Hong Kong who'd come to America speaking little English. But they'd worked hard, raised two successful children and put them through college, and weren't about to give up. "We used this challenging time for self-development," Susan says. "We went to every Business Presentation and training we knew of the in the San Francisco Bay Area. We attended AMBITION three years in a row, and all the Simulcasts."
The Kos hard work and investment in time and training paid off. They were honored as Fast Track Executive Consultants and Simon quit his job at the casino in July of 2015 to focus on running the couple's Ambit business full time. "All our lives we had been chasing jobs in search of a steady income and a comfortable life. Our Ambit business has helped us accomplish that goal and given us the right tools to continue our role as messengers for the redistribution of wealth under energy deregulation," Simon says.
A Big Payoff
For the Kos, Ambit has really paid off. They've more than erased the retirement shortfall that led Simon to look into Ambit in the first place. Their adult children, who where initially skeptical, are proud of what the couple has accomplished. And the Kos are looking forward to achieving the next step in their Ambit journey—National Consultant. "We're planning to explore new markets and will continue to arrange meetings and trainings to expand the business to a whole new level," Susan says. "We appreciate every moment of life and are grateful for what this opportunity has brought us," Simon adds. "We want to continue to help others see and know there is hope and a chance to have a better life."
For new Consultants, the Kos recommend staying focused, following the system and having the heart, caring and patience to work with their team. As a business starts to grow, they say "Lead team members by training them in the basics, show them it's a helping people business, be bold, and follow the system so success can be duplicated."
Given what they've accomplished, it's probably smart to bet on the Ko's continued success, and on their advice.
Five EC Pieces
My/ our "Why?"
Act as a messenger to spread/share the message to new immigrants "wealth redistribution under energy deregulation"
Time spent working my/ our Ambit business:
Started with an hour a day, now both working Ambit business full time
What was your single most-effective Success Tool, factor or influence for growing your business?
Constantly training for the right "mindset" i.e. grit, perseverance, patience, truthfulness.
Name your favorite thing about AMBITION
Mr. Jere Thompson Jr. expressing his believe "Never sacrifice integrity for growth", "don't say what is not"
Thanks to the five SCs who helped me/ us reach EC.
Wing Yan Kei (NY), Donna Doung (MA), Xiu Xing Bu (CA), Yammy Cheng (NY), Dikang Ruan (NY)
---
Featured Consultant
At Ambit Energy, we're inspired, proud, and even awed by the success stories we hear from our Consultants every day. Learn what motivates some of our top Consultants, read why they decided that Ambit was the right company at the right time, and maybe even pick up some inspiring tips to help you build your own business and achieve a similar level of success!