Taking a Look Beyond the Surface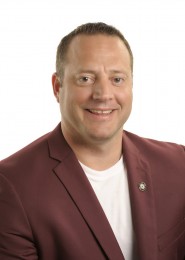 Chris Niles recognized a few things about the Ambit business that some overlook when they begin their journey toward Financial Freedom: the endless possibilities for free energy. It was something he realized most people didn't think about all of the time. But, it's something that we all need. "I'm very passionate about helping Consultants and Customers earn free energy for their families," Chris said. "I understood how purposeful this work could be – to become part of a company that provides people with affordable energy."
Chris knows it's something that people don't think about often because he was one of those people. He was approached several times by different people to think about joining the Ambit business. However, it was something that didn't interest him. "I had zero interest and assured them he wanted nothing to do with it." Then something changed. "A good friend insisted that I give the business a shot. I went home that day, went to work, and I haven't stopped working since that day," Chris said.
The Drive for Change
His Ambit business has given him the chance to leave a legacy for his sons. It's that dream of leaving a legacy that has become more important to Chris in recent years. "On March 3, 2011, I was in a life changing accident. I was trimming some storm damaged trees when one of them unexpectedly collapsed, hitting me in my back, and leaving me paralyzed from the chest down," he recalled about the day of his accident. His two sons, Christopher and Braden, keep him going each day. "I want them to understand that regardless of your circumstances in your life, or the obstacles, the life you're willing to work for is the one you can have," he said. It's something he hopes they remember.
For Chris, his "Why" is simple. "I want a better life for my sons. A debt-free, worry free life," he said. He describes life after his accident as one filled with many hardships. That's made his drive toward Financial Freedom even stronger. Yet, he's overcome a lot of resistance from family and other struggles to get where he is today with his Ambit business. "I want Financial Freedom. To do what I want, when I want. I see how Ambit has done that for others. I see what it can do for me," Chris said.
---
Featured Consultant
At Ambit Energy, we're inspired, proud, and even awed by the success stories we hear from our Consultants every day. Learn what motivates some of our top Consultants, read why they decided that Ambit was the right company at the right time, and maybe even pick up some inspiring tips to help you build your own business and achieve a similar level of success!