Taking Off for New Destinations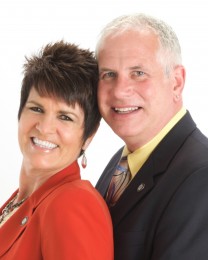 Golden State Consultant Cheryl Spencer was stunned and elated when she discovered how much her flourishing California-based Ambit business had grown in such a short period. But after clocking 3 years-worth of monthly, round trip flights from California to Texas just to maintain its upkeep , Cheryl decided it was time to stop commuting and start committing - to her business, to her team, and to her future.
Growing up in South Lake Tahoe, Cheryl always lived in California. She spent almost 30 of those years building a solid career in outside sales, finance and collections. But in 2007, changes in the job market sparked concern over her future and long-term security.
"My job before Ambit provided a great lifestyle," says Cheryl. "But I hadn't started planning for retirement. So with no Plan B and a sharp downturn in the economy, I knew I needed to find some answers fast."
That's when a friendship with a business colleague turned into one of the most pivotal connections Cheryl would ever have.
Cancelling Reservations and Setting New Goals
"My good friend, Esther Spina called me in September 2007 and said she found something she thought I would be interested in," explains Cheryl. "So after learning of the Opportunity and flying to the corporate office in Texas to meet the co-founders, I immediately signed up, even though the only markets Ambit served were Texas and New York at the time."
So she took the leap, hopped the plane and launched plans to take Texas by storm. After a few very successful return visits to her adopted Texas territory, any reservations she had about the system and its potential were quickly cancelled.
She adds, "My first goal was to plant seeds by asking everyone I knew, and plenty I didn't, if they knew anyone in TX or NY. I thought if I could earn a few hundred dollars extra and steadily build my business, I would be in the perfect position once Ambit expanded to California."
Discovering Her Next Great Destination
Month after month, Cheryl packed up and put the Ambit Opportunity into motion. Soon, she started seeing results, faster than expected. Texas was also home to her son and his wife, and to a special man she met through Ambit and who would soon become her husband - Founding Ambit Consultant, O.L. Spencer. Soon those long three-hour flights began to fly by.
Once Cheryl achieved EC status, she shifted gears and made Ambit her top priority. Soon, the couple married and decided to work together by teaming up to grow their Ambit business. Her husband, who goes by his last name, "Spencer," believed in Ambit's potential so much that he retired early from his construction business to join the first class of original Ambit Consultants in October 2006.
"Every day we get to wake up at our own pace and decide where that day will take us," adds Cheryl. "No boss, zero stress and the excitement that comes from working on what we love, with the one we love most. How many people get to say that?"
So what new goals do Cheryl and Spencer aim to take on? It starts with Cheryl trading time on jetliners for new adventures on a Sport Bike.

"We like our bikes like we like our business, fast, fun and exciting," beams Cheryl. "I just got my first motorcycle. Learning how to ride has always been a dream of mine. The best part is that it fits so well with our goals to become Nationals and expand our business base throughout the state. Now my husband and I get to ride through the Austin Hill Country or take day trips to other cities and states, sharing the Opportunity everywhere we go."
Sharing What She Has Learned
What bit of advice do you have for newer Consultants who face slowdowns or find it difficult maintaining their momentum?
"Never give up," urges Cheryl. "You can make money, you can make excuses but you can't make both. Surround yourself with people who inspire you and stay plugged in."
"And always attend AMBITION - attend as many trainings and events as possible. If you are at all serious about building your business, do whatever it takes to experience it for yourself. It's more than just information and training, you get to make connections with other incredible Consultants who will inspire and recharge you in ways you never imagined."
For Cheryl and Spencer, Ambit has delivered more than the chance to achieve financial freedom and their greatest income potential. For them, once you make the important things your top priority, life falls into place.
Your "Why?" Having a Retirement was the big why, and now because of my residual income I have peace of mind knowing that my retirement is set. The Why has shifted to building as big of an organization as possible so that we may help as many people achieve their why.
Time spent working Ambit :
I get to work Ambit full time with my husband Oady Spencer, who I met in Ambit.
Most-effective Success Tool, factor or influence for growing the Ambit business.
I would have to say the Success from Home magazine is the most effective tool we use for growing the business.
Favorite thing about AMBITION.
The best thing about going to Ambition is renewing the relationships of all the consultants across the country that I've met.
Thanks to the five Senior Consultants who helped us/ me become an EC.
Adam and Michelle Carey, Jeff Dorsey, Amy Harbour, Lisa Badgley, and Scott Cary
---
Featured Consultant
At Ambit Energy, we're inspired, proud, and even awed by the success stories we hear from our Consultants every day. Learn what motivates some of our top Consultants, read why they decided that Ambit was the right company at the right time, and maybe even pick up some inspiring tips to help you build your own business and achieve a similar level of success!