Teaching a New Lesson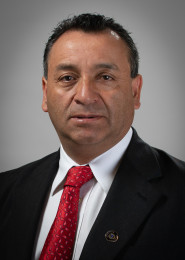 As a teacher in his home country of Ecuador, EC Luis Mario Remache showed others how to change their lives through education. That lesson didn't change when he moved to the United States. His sister told him about Ambit Energy, and their discussion led him to a decision that changed his life. "At the beginning, no one supported this project, including my friends and family." Luis says.
Class is in Session
While friends and family initially didn't think Luis' new business was a good idea, their thoughts changed when they saw his success with Ambit. "I have proven that this company creates a difference in people's lives, and they saw the results Ambit brought to my life." Those results helped others to give Ambit a second thought. "Their perception of Ambit has changed, and now many of them work with me."
His initial expectations from Ambit were about professional growth. He also saw some financial perks. "One of my biggest achievements was becoming an Executive Consultant," Luis thought that promotion meant more. "It shows that with dedication, perseverance and knowledge you can achieve anything."
Community-based Learning
Life means something different for Luis. Now, he sees all of the ways his experiences can help benefit his team. "I help others see Ambit as a new opportunity for their family." His growth serves as an example. That's why he often tells people how his 'Why' developed over time. Initially, his "Why" was to pay for his daughter's college education in the U.S. That 'Why' has evolved into an even larger goal. "I'd like to become a founder of an orphanage in the long term."
He's made many changes to his life since joining Ambit. Even with his goals, there's one new one. "My new goals are to continue to grow with the system and having the faith that I will make it." His determination and hard work show he's his way to teaching others how to get that life for themselves.
Five EC Pieces
My "Why?"
For my daughter's education. To stop being an employee and to travel.
Time spent working my Ambit business:
30 hours per week
What was your single most-effective Success Tool, factor or influence for growing your business?
Know the system. Be perseverant.
Name your favorite thing about AMBITION:
Listening to testimonials that transforms into new personal tools.
Thanks to the five SCs who helped me reach EC.
Today, I have reached this level and we will work together to reach higher levels.
---
Featured Consultant
At Ambit Energy, we're inspired, proud, and even awed by the success stories we hear from our Consultants every day. Learn what motivates some of our top Consultants, read why they decided that Ambit was the right company at the right time, and maybe even pick up some inspiring tips to help you build your own business and achieve a similar level of success!