Teamwork Makes the Dream Work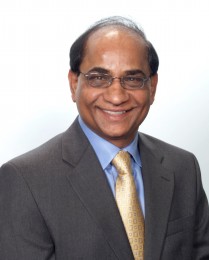 Bhupen Patel has been a business owner for most of his life. With an open-minded nature, Bhupen is always looking for good opportunities. Back in the early '80s, he saw a big opportunity in the video rental business, prior to the Blockbuster era, and he jumped in right away.
Bhupen's only knowledge of the industry consisted of Clint Eastwood and James Bond films. However, he didn't let that stop him. Bhupen knew that his passion for entrepreneurship and his friendly, helping nature would help him become very successful in the business.
For the next 15 years, he owned and operated several video stores – all the while helping his friends find their way in the industry as well. Once he left the business, he focused on an opportunity in the mortgage industry. Though he initially had limited knowledge, he was again able to conquer an industry through his passionate and helping nature. He continued to thrive in this new business for 15 years.
Ambit Was a New Opportunity
Forever the entrepreneur, Bhupen was always eager to find new business opportunities, so it was no surprise when he stumbled upon Ambit Energy. He knew from the beginning that this was an opportunity that he had to explore. He watched the video clips on Ambit's website and was drawn in immediately.
"I still remember that day," said Bhupen. "I could not sleep that night, thinking about all the money I can make in the future for myself and help others to do the same.
"It was a win-win situation, a no brainer."
Bhupen immediately contacted Rick Geraci, who had sent him the initial email about Ambit. Rick guided him through the Ambit business structure and Bhupen signed up immediately to become an Ambit consultant.
"His help and guidance was immeasurable," said Bhupen.
The Sky Was the Limit with Ambit
"What began slowly turned into a very successful business once Ambit introduced electricity to its platform," said Bhupen. "With tremendous teamwork and hard work, the sky was the limit."
Bhupen has always been a firm believer in teamwork.
"My team's success is my success," said Bhupen.
From the very beginning, Bhupen's wife and family knew he would be successful in any business he got into, but they had no idea what was yet to come.
"Ambit changed my life and the lives of many of my consultants," said Bhupen. "This has been my biggest and proudest accomplishment. The ability to help others and to better their lives and the lives of their families is priceless."
Ambit has given Bhupen the opportunities of a lifetime. He's met so many new people and has made so many new friends. With the help of Ambit, Bhupen has been able to help and guide others, providing a stable financial future for them.
"My goal is to continue helping more people and watching them grow their Ambit business," said Bhupen. "I will also continue to show my Ambit vision to all my consultants and I have every hope to become a national consultant."
Bhupen had a simple answer when asked about his advice for new Consultants.
"Work hard, make new friends, help them and guide them because their success is your success," said Bhupen.
"Teamwork makes dream work."
My "Why": Financial freedom for me and my consultants. I enjoy spending time helping my consultants because it's an all-around good feeling knowing that you have the ability to make someone's future.
The single most effective success tool, factor or influence for growing your
business: The Ambit websites along with the local meetings are of tremendous value for any consultants looking to grow their business.
My favorite thing about AMBITION: AMBITION boosts lots of positive energy and excitement keeping morale at its highest.
Thanks to the five SCs who helped me reach EC: Jay Patel, Chandrika Patel, Bhavna Modi, Kanti Patel and Mukesh Desai.
---
Featured Consultant
At Ambit Energy, we're inspired, proud, and even awed by the success stories we hear from our Consultants every day. Learn what motivates some of our top Consultants, read why they decided that Ambit was the right company at the right time, and maybe even pick up some inspiring tips to help you build your own business and achieve a similar level of success!