Thank Our "Phenomenal" Opportunity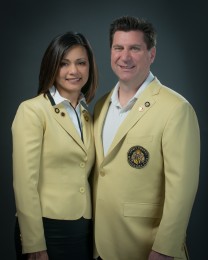 "I'm in bed in the hospital and I'm getting promoted!" exclaims EC Mary Amoedo. Mary is doing fine. She's just in for some bed rest during her pregnancy. "All these patients on my wing," she says with concern in her voice, "are here another two to ten weeks. When they get out, they may or may not have a job, they'll have big medical bills and an infant to care for." Then brightening up, "The beauty of this opportunity is when I get out of the hospital, my income will be greater!"

Her husband Richard has run some numbers on their Ambit income. "In less than a year's time, we've gone from making all of $500 in April, to a residual income greater than what you'd earn if you had $600,000 in a CD earning 5% annually." Mary chimes in happily, "It covers our mortgage! It's phenomenal!" And their income is growing. Richard immediately points out that they don't talk about these numbers because he and Mary are impressed with themselves; they are impressed that the Ambit Opportunity can create this kind of income.

A Quest For Better Quality of Life
"Our goal, our focus," Richard says, "is to improve people's quality of life. Money does that, but great people do that quicker. We ask ourselves, 'How are we going to make a difference in people's lives?'"

Part of the answer comes by way of the example set by some Ambit Energy field leaders. "[NC] Steve Thompson, [EC] Chris Atkinson and [EC] Kenny Smith have all come to visit me in the hospital. [NC] Carlos Marin has called many times," Mary relates. "And none of these guys are in our organization! It speaks volumes about the culture of our company."

Richard and Mary joined Ambit after saying "no" many times to their friend and now sponsor, NC Terri Hammack. Mary remembers, "She saw us working 60 and 70 hours a week in our mortgage business, which had recently quadrupled in income. We were traveling all over the country and had no time for our two kids. Terri wanted a better quality of life for us." Finally, Terri got Richard and Mary signed up. They "laid dormant" for six months, when one day they got a check for $334 in the mail.

Mary says, "I called up Terri right then and said 'Show me how this thing works!'" The Amoedos had been looking for a way out of their mortgage business, but had "no idea that this was a bonafide business." Terri showed them the comp plan and Mary said to herself, "I'm just going to play around with this until I figure out what's next." Then Mary gets excited again, "We started making lots of money quickly. And we found out it's easy and it's fun! I love it!" Within two months, they shut down their mortgage business to pursue Ambit full-time. Nobody Goes It Alone
"We couldn't have done this without Terri's daily support," Richard says. "And [NC] Terry LaCore helped us with some key trainings." The Amoedos give special thanks to Terri and Terry who are in their upline organization. And they extend their gratitude for help to key individuals who are not in their organization, but who definitely feel like they're on the same team: National Consultants Steve Thompson, Carlos Marin and Brian McClure.

Mary has all six of her siblings in the business. "We share this opportunity with everyone. In fact, I was more excited about one of our RCs becoming a Senior than us being EC," Mary says about SC Cassondra Parker, whose recent promotion triggered the Amoedo's rise to EC level. "She worked so hard! We're so proud of her!"

Advice for new Consultants
"Start a team with as many people as possible," Mary advises. Richard believes in the 526 System and the resources available in Power Zone under Ambit University. "If you're not using those resources, you're not really working this business." He also says, "Don't quit. When you think about it, don't quit. You're not going to find a better deal out there. You will find a different deal, but not a better deal."

Richard and Mary have seen that Ambit's most successful people attend events held by upline leaders and by the company. "As many trainings as we've gone to," Richard says, "we've always come away with something worth more to the business than what we paid for the training." Mary says, "No matter what level you're on, there's always something new to be learned. Learn it, then apply it between sessions. Apply it and you'll get to the next level."

Mary continues to work her Ambit business from her hospital bed. Get plenty of good rest Mary. We want to see you at an Ambit Opportunity meeting soon!
---
Featured Consultant
At Ambit Energy, we're inspired, proud, and even awed by the success stories we hear from our Consultants every day. Learn what motivates some of our top Consultants, read why they decided that Ambit was the right company at the right time, and maybe even pick up some inspiring tips to help you build your own business and achieve a similar level of success!