The ABCs of Helping Others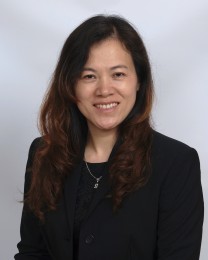 Executive Consultant Yun Yan Huang helps children learn every day. The kindergarten teacher knows the ABCs are the foundation to success in reading. "I love working at the daycare center with the kids." Yun is a teacher who teaches Mandarin Chinese. That knowledge and teaching others the fundamentals of success are the same skills she uses in her Ambit business.
H is for Helping
Along with her role at the day care center, Yun is a mom. While these roles were fulfilling, she still dreamed of starting her own business. "I was looking for an opportunity that would change my life." A friend told her about Ambit, and the rest is history. She went to work on saving on her electric bill at home. "I found out quickly that Ambit helps people save money and make money at the same time."
The Ambit Opportunity exceeded all of her initial expectations. "I knew Ambit was going to help me fulfill my dream of becoming a businesswoman." She worked on finding people with the same dream. "I shared Ambit with everyone I knew who wanted to save money and make money." As others saw her success, her Ambit business started to grow.
W is for 'Why'
"My No. 1 goal has always been the same," Yun said, "And, that's to help others save money on their bills and start a business if they want." She admits that most people were skeptical of her Ambit business in the beginning. Yet, she pushed forward because she knew Ambit had the potential to help her and others. "I heard so many success stories from other leaders. I knew it would work for me." Her advice for new Consultants "Choose to believe in Ambit and trust the company." The rest she says will happen naturally as you work your business. The lesson remains the same, work hard and work your business.
Five EC Pieces
My "Why?"
Because I try to be a better person every day and try my best to improve myself.
Time spent working my Ambit business:
6-7 hours/day
What was your single most-effective Success Tool, factor or influence for growing your business?
Get people to trust and support.
Name your favorite thing about AMBITION:
Learn from successful leaders' stories.
Thanks to the five SCs who helped me reach EC.
Chong Hui Chen, Yan Yan, Deng Yan Zheng, Lucy and Tony Xu Cheng, Xiang Yang
---
Featured Consultant
At Ambit Energy, we're inspired, proud, and even awed by the success stories we hear from our Consultants every day. Learn what motivates some of our top Consultants, read why they decided that Ambit was the right company at the right time, and maybe even pick up some inspiring tips to help you build your own business and achieve a similar level of success!