The Bill That Changed It All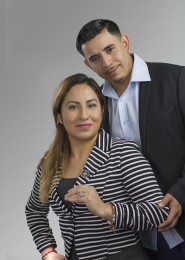 A $500 electric bill. As if juggling two stressful jobs with often little to no time for herself or family wasn't enough, Irma Lozada had just received her highest electric bill yet. But, it wasn't the 60-hour work weeks or two jobs that led her to think about starting her own Ambit business. It was the $500 electric bill. "I wanted to pay less for electricity or not pay at all," Irma said. She had recently moved to the United States with her mother and father to make a better life for her five brothers. She never knew she would eventually own her own business.
Irma was introduced to the Ambit Opportunity by a friend. Her goal was to never have another $500 electric bill. It was only after learning more about Ambit that she began to see she could have more than a lower electric bill. "What I liked the most is that I can do it from home without neglecting my family," Irma said. A family that included a daughter and husband. For Irma, her 'Why' was easy. "My 'Why' is a better life for my daughter, to spend more time with her and buy a home," Irma said.
Great Expectations
She does admit though it was hard in the beginning. Her family had doubts about her new business. "They didn't believe it," Irma said. She also didn't know how to convince them starting the business was a good idea. "I couldn't ask them to believe me when I wasn't sure if it was true myself," she said. She had one goal in mind in the beginning: to be a Senior Consultant. "It seemed like becoming a Senior Consultant was impossible," she said adding, "I surpassed all my expectations and now, my next step is becoming a National Consultant." Her hard work also exceeded her family's expectations. Now, her mother and sister are a part of her Ambit business. "Their goal is to be Executive Consultants," she said.
As a new Consultant, Irma knows it can be hard to try something new. She describes herself as shy. "I didn't like talking to people because I was shy and scared," and she added, "But even today, I am amazed to be able to talk to all the Customers and Consultants." It's her ability to get over her fears and succeed one of the reasons she wants to help new Consultants. "My best advice is if they really want it, then they can make it." After all, her story started with just one $500 electric bill. Now, she's made it a business that's helped her own life.
Five EC Pieces
My "Why?"
My family. My daughter.

Time spent working my Ambit business:
The amount of time that is necessary because I like my job, my business


What was your single most-effective Success Tool, factor or influence for growing your business?
In my case, being consistent in my work has given me good results, and of course, always helping each of my Consultants.

Name your favorite thing about AMBITION:
The recognition of each person that has achieved success with Ambit Energy. Listening to testimonies and Ambit stories.

Thanks to the five SCs who helped me reach EC.
I want to thank my five Senior Consultants because of their tenacity and willingness to work. The result of the perseverance is the place where we are now. They are:
Martha Morales
Noelia Gallardo
Ludibina Gonzalez
Maria De La Cruz Tovar
Martha Patricia Solis

---
Featured Consultant
At Ambit Energy, we're inspired, proud, and even awed by the success stories we hear from our Consultants every day. Learn what motivates some of our top Consultants, read why they decided that Ambit was the right company at the right time, and maybe even pick up some inspiring tips to help you build your own business and achieve a similar level of success!