The Commitment to Success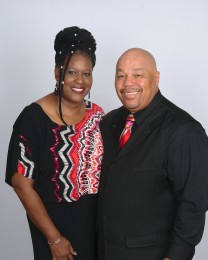 Eric Johnson is a father, minister and entrepreneur. "My wife and I have been full-time pastors of New Life Family Christian Center for the last 10 years," he said. As the owner of a carpet cleaning business, he wanted to diversify his income. In January of 2015, he got that chance. "I got a Facebook inbox message to take a look at Ambit and the rest was history!"
Moving Forward
Eric's 'Why' began with one goal. "My wife and I were hoping to be able to put a fund together for our grandkids' college education," he said. With 8 kids and 17 grandchildren, he wanted to help his family more financially. "Because I never had much growing up in a family with one income and seeing my parents struggle with our family, I did not want that for my family."
As an Executive Consultant with a growing Ambit business, his 'Why' has grown over time. "Now, I want to provide additional revenues toward our ministry for outreach in the community surrounding our church in Chicago," he said. These are the things that have become easier for him because of Ambit.
The Next Stage
Eric knows the ease of starting an Ambit business. "I want to make it as simple as possible for others." So, he came up with an idea. "I put together my own quick start kits for my new Consultants," Eric said, crediting the kits and training as the backbone of his Ambit business.
The lessons aren't over for him. "I'm going to continue stretching myself to read more personal development books and seminar trainings, and learning from the top Executives and producers. He also plans to continue teaching as an EC. "My plan is to give away all that I've learned and make myself available," Eric said. For Consultants, he wants them to know one thing. "I'm committed to their success more than mine."
Five EC Pieces
My "Why?"
Is to provide financial security for our family, ministry and community.
Time spent working my Ambit business:
10 to 15 hours a week.

What was your single most-effective Success Tool, factor or influence for growing your business?
Weekly Team Training!
Name your favorite thing about AMBITION:
New Consultants enrolled into the Ambit vision!
Thanks to the five SCs who helped me reach EC.
Prophetess Carolyn Scott, Denise Nelson, Sam Eaton, Naja Jackson, Demetrus Dillard
---
Featured Consultant
At Ambit Energy, we're inspired, proud, and even awed by the success stories we hear from our Consultants every day. Learn what motivates some of our top Consultants, read why they decided that Ambit was the right company at the right time, and maybe even pick up some inspiring tips to help you build your own business and achieve a similar level of success!