The Decision That Changed It All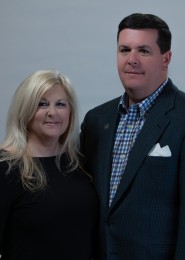 Teresa Percifield was a single mom with a demanding job. Working in the oil and gas industry had great opportunities and benefits, but there was also a demanding travel schedule. "My territory was the entire United States, and my first year, I spent only one weekend at home." She heard about Ambit, but decided against it. Then, a few changes in her personal life made her rethink her career, and she decided it was time for a change. "I didn't have a life working in the oil and gas industry, because I worked 24/7."
A New Life
After deciding to leave the oil and gas industry, she tried another job, but it turned out to be a dead end. "EC Paul Easton told me about the business, but I said no. For the next year, Paul continued to talk to me about Ambit." All of the signs began to point to Ambit. "I believe in signs, and that was a big one!" Teresa wanted to try something different, and Ambit was her answer. The choice turned out to be a wise one, because she fast tracked to RC. It wasn't long before she knew she was in the right place. "My first week in the business, I attended AMBITION." She heard Chris tell the audience that his wife was praying backstage. "That was the one thing I needed to hear. After that, I was all in."
During her Ambit journey, she started dating Michael. She told him there were two requirements to date her, "You have to love God, and help me build my Ambit business." The two married and joined their two families. "It took us a while to navigate what was really important." That navigation included personal struggles, which affected their business. She admits it was surprising with all that they endured that they made it to EC. Even with the challenges, she knew she had made the right decision by joining Ambit. "After hearing about Jere and Chris, I could see that Ambit was structured differently from all of the other businesses I had tried in the past."
Making a Plan
Helping people, making great friends, and landing more opportunities all were good, but it was one trip that convinced Michael, a trip Teresa won to spend a weekend at Brian McClure's ranch. "It was at this moment that I realized that God had positioned me to meet all of these people, to show me that if they can do this business successfully, then so can I," he said.
Teresa credits her team with her success. "I was truly blessed from the beginning of my Ambit journey with an incredible team." Teresa has a few tips for new Consultants. "I thought the new Consultants needed a step-by-step guide, so I created a planner." From training tips to a monthly calendar, the guide included everything new Consultants needed. The pair have even more ideas now that they're ECs. Those include sponsoring more Consultants and training them. They admit that grit and desire make up a large part of the Ambit journey. "There is a learning curve, so you have to just make up your mind to do it." After overcoming all that they have, we think these two are the perfect example of getting things done.
Five EC Pieces
Our "Why?"
To share with as many people as we can to enable them to experience these same opportunities as well!

Time spent working our Ambit business:
We built our Ambit business part-time.

What was your single most-effective Success Tool, factor or influence for growing your business?
The Opportunity video along with home and local meetings.

Name your favorite thing about AMBITION:
The fellowship, comradery, and the wonderful stories and testimonies.
Thanks to the five SCs who helped us reach EC.
Kaylene Garcia, Mary and John Percifield, Sr., Anita Wilson, Adrienne and Carlos Flores, and Lizette Rice.
---
Featured Consultant
At Ambit Energy, we're inspired, proud, and even awed by the success stories we hear from our Consultants every day. Learn what motivates some of our top Consultants, read why they decided that Ambit was the right company at the right time, and maybe even pick up some inspiring tips to help you build your own business and achieve a similar level of success!