The Fast Lane to Success
Dale Poage, Executive Consultant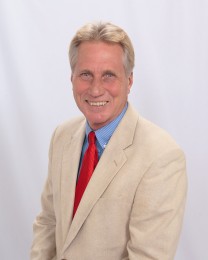 When it comes to his career, Dale Poage has done it all. He worked in the telecommunications industry followed by owning a few different types of businesses that he made successful, then sold. His most interesting job had to be racing professional stadium trucks for five years. So, his fast lane to success at Ambit should be no surprise to anyone. But, it was his curiosity that led him to Ambit. "There was a point in my life where my hope was diminishing. At work every day, I saw a man walking to the post office with a big smile on his face, and I wondered why he was so happy," he said. "I met him one day and he told me about this DVD. He said if I did this part-time putting in three to five hours a week, I would be financially set in two to three years."
Dale learned the man's name was Clint Hummel. And, he was telling the truth. Dale credits that moment when he met Clint to him being financially free in February 2014, two years after joining Ambit. It was the start he needed to create the retirement life he's dreamed about for so long. "I wanted a retirement income of $2,000 to $3,000 a month," he said. This started Dale's move into the fast lane to success.
Small Goals, Big Returns
Dale started his Ambit business with small goals. He only had one thing in mind. "I wanted to make an extra $500 a month to get a better car." But with learning his Ambit business, he soon upgraded and got more than he ever expected. "I got the new car and a new zip code!" he said. That was a big return for a man who within the previous two to four years felt as though he'd lost everything. The year 2010 was a one that was a turning point in Dale's life. The market crashed which damaged his business and he lost his wife. Two years later, it seemed that things weren't getting any better. He lost his business and his house that year. "My desire to live was diminishing. I took a job selling life insurance over the phone in Center, Missouri," he said. The days were long and his determination was dwindling. "My car had no heat. I would often stay late at work and arrive early," Dale said.
It wasn't long before he started working his Ambit business, but it wasn't without its challenges. But building businesses over the years taught Dale one thing, he always had to be flexible. "I live in Missouri where getting Customers was a big challenge," he said. Dale's response was easy. He decided to expand his reach beyond Missouri. "I crossed the river to Illinois and started meeting people there that helped me to build my business," he said. "There are lots of great people in Illinois," he added.
The change paid off in a major way, and his family noticed the changes as well. "There were some who in the beginning wanted no part of it, then there were some who wanted to wait to see if I made any money." But, there were others who saw the Opportunity and jumped at it immediately. "My son, Austin, started in the business immediately. Now, he's a Senior Consultant," Dale said.

The Next Leg of the Race
There's a mantra that works for Dale that he passes on to new Consultants. "It's been rather easy. I say you have to learn the system, love it, live it and teach it," he said. He credits teamwork as the key piece to moving forward in your business. "My best friend, Mir, who is also an Executive Consultant, and I plan to go on tour for four weeks, every Saturday, to train others," he said. These are the kinds of moves that Dale says has helped him to grow his business. For new Consultants, Dale suggests this add-on, "Don't do it alone. Find someone you can run with and have fun."
Dale decided he's doing bigger things and those bigger things are in Texas. "My goal is to own a second home in Texas, so I can also build a team there," he said. Along with his continued expansion into Illinois, Dale knows his goal to move to Texas is one that will take his business to the next level. "I love Texas, and the bonus is I can keep warm in the winter months." Dale's goals for his business may be big, but his success has inspired him to think bigger and dream bigger. One of his next goals proves his pursuit of big goals. "I have set my sights on the Senior PGA Tour," he said. "And, I have two years to practice."
---
Featured Consultant
At Ambit Energy, we're inspired, proud, and even awed by the success stories we hear from our Consultants every day. Learn what motivates some of our top Consultants, read why they decided that Ambit was the right company at the right time, and maybe even pick up some inspiring tips to help you build your own business and achieve a similar level of success!