The "Favor" that Changed Our Lives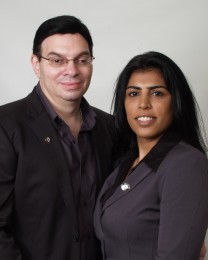 Sigal Cespuglio and her husband Joe are used to having their own business – they had a company restoring and rebuilding antique cars, custom cars and custom motorcycles.
"I came to here 15 years ago from Israel and met Joe," says Sigal. "We fell in love and got married, and together we ran our automotive business."
They got married in 2000, and spent all of their savings on medical bills in their efforts to have a child.
"And then the economy collapsed – and so did our business," recalls Sigal. "So we were looking for new ways to make additional income."
ONE SMALL FAVOR
Sigal decided to go into real estate, and started taking classes. Then one day, she got a phone call from her Aunt Hanna. "She said that she just started a new business – helping people save money on their gas and electric Bills. So she asked me to do her a favor and become her customer, and I did."
A few days later, she received the three-day, two-night hotel stay from Ambit, just for becoming a customer. "I got excited, and we started telling all of our friends – and they got excited, too!"
Sigal called her aunt again to ask if she could help her friends, too, and her aunt – knowing that Sigal and Joe were looking for additional income opportunities – invited them to an Ambit Business Presentation in Staten Island.
"As soon as they mentioned energy deregulation and saw the Ambit compensation plan, we knew that we needed to take advantage of this opportunity. So we joined Ambit Energy – and that favor that we did for my aunt changed our lives!"
THE "AMBITION" EFFECT
Less than two months after starting their Ambit business, Sigal and Joe attended AMBITION 2008 as Senior Consultants.
"We were very impressed by Jere Thompson and Chris Chambless, the company, the training sessions, and the energy of the crowd," says Sigal. "The event got us even more excited, knowing that we were in the right place at the right time." "We came back from AMBITION very motivated to work with our team, supporting them and passing on all the knowledge that we obtained. And as we continued to build our Ambit business – attending all the Business Presentations and training events with our team in New York, it helped us all to grow and learn more from our top leaders."
Sigal and Joe are very thankful for all of the time, knowledge and experience that their fellow Consultants have shared with them, and do their best to share it all with their team.
"BECOME THE PERSON IN THE STORY"
"Building our Ambit business as partners is truly a blessing for us," says Sigal. "It's wonderful to be able to work on our goals and dreams together – and also to be helping others change their financial futures, while we build lifelong friendships, too."
"Today, we're building our Ambit Energy Business full time. Because of the Ambit Opportunity, we're now saving up the money we need to start our family with no worries!"
Sigal also feels fortunate to have found a business that pays residual income. "You'll always hear stories about someone becoming successful thanks to an opportunity that changed their lives – while you sit on the sideline asking 'why couldn't that be me?'"
"Our advice for new people coming into this business is to stay persistent and consistent, and to make it happen – don't watch it happen. Because when you take control of your financial future, you can become the person in that story!"
---
Featured Consultant
At Ambit Energy, we're inspired, proud, and even awed by the success stories we hear from our Consultants every day. Learn what motivates some of our top Consultants, read why they decided that Ambit was the right company at the right time, and maybe even pick up some inspiring tips to help you build your own business and achieve a similar level of success!