The Important Deadline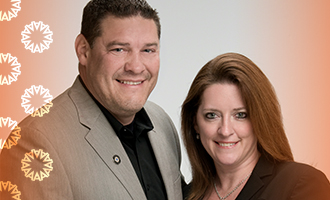 There was one deadline that Brian Radel wasn't going to miss. Brian decided years ago when he served in the U.S. Air Force that 2014 would be an important year for him. He planned to retire then at age 50. There was only one small problem. He'd left the military and started a new career as a correctional officer, but then there was the financial downturn in 2008. Brian's 401k balance took a huge dive because of the economy. But, he still had the 2014 deadline in mind.
Brian, along with wife, Danielle, knew there was more to life than working so hard every day. "Living from payday to payday and working to help others make money is all we have ever known," Danielle said. But, the pair wanted the chance to know another way of life. It was one they wanted to share with their children, 27-year-old Corey and 24-year-old Chelsie, and future generations. So with thoughts of reaching retirement at an age where they would still be able to enjoy the things they love to do with their family, the two started thinking of ways they'd be able to reach their deadline.
The Visit That Started the Journey

Danielle made a promise to a group of friends to attend their party. Brian was a tough sell, but Danielle was determined to keep a promise to their friends. It was that promise that changed their lives. After a short period of listening intently to a presentation about the Ambit Opportunity, Brian and Danielle were ready to begin their own business. "We both loved the thought of Free Energy for us and our family, but Danielle understood residual income due to her job," Brian said. As a top-producing insurance agent, Danielle knew the opportunities were endless for them. That passion, and their deadline, was enough to get them started.
Their Ambit business has been earmarked by several achievements – promoted twice within a span of six months and the first ECs promoted on Jim and Julie Brosious's team, but not without a few minor setbacks. They experienced challenges with sticking to the system and tips that they received in all of their trainings. It was frustrating at first, but once they understood and had a plan, the two started to reach new heights with their business.
Next Stop: NC
Brian and Danielle made their deadline. "Now that Ambit has made it possible for Brian to retire, we are looking forward to getting out of our own backyard and growing huge teams in other states and markets," Danielle said. They know there are no limits to their success. Their past achievements prove that. But, if they could pass on piece of advice to others, it would be to "get out of your comfort zone, follow the system from Day One and when you decide to do it don't look back follow the system, use your leaders and 'Just do it!'"
Our "Why?"
Our why is to retire Danielle from her job 15 years early.
Time spent working our business
We are open for business 24/7 with Ambit.
What was your single most-effective Success Tool, factor or influence for growing your business?
Jim & Julie Brosious and the system of course.
Name your favorite thing about AMBITION:
The camaraderie and sharing information w/people from all over the country.
Thanks to the five SCs who helped us reach EC.
Chelsie Radel, Corey Radel, Tonia Guffey, Michael Haven and Shannon Shrawder.
---
Featured Consultant
At Ambit Energy, we're inspired, proud, and even awed by the success stories we hear from our Consultants every day. Learn what motivates some of our top Consultants, read why they decided that Ambit was the right company at the right time, and maybe even pick up some inspiring tips to help you build your own business and achieve a similar level of success!