The Late Night Phone Call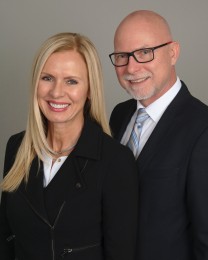 Barbara Bykowski knew once she came to America that she wanted to achieve her dreams. Along with her husband and four children, they didn't have any family nearby. But, Barbara and her husband were determined to support their growing family. At the time they started their Ambit business, three of their four children were in college. "We worked hard having two to three jobs," she said. The two balanced work and family while going to school to learn English. But, the changes didn't end there. "We brought my elderly mother and my disabled brother from Poland. Their income was very limited, so we needed to provide them with full financial support," Barbara said. With a large family to care for plus limited financial options, things weren't going well for her and her family after the economic downturn. That all changed with a late night phone call.
During that phone call, a friend of friends, practically a stranger, told her to watch a video about Ambit Energy. That 3-way phone call resulted in her joining the business. "It does not matter what website you show. There is no bad presentation for the right person," Barbara said. Everything sounded great, but there was one small problem. She lived in New Jersey. At the time, Ambit Energy wasn't available in New Jersey. But, she joined the business anyway. She figured it would be something she would overcome at some point. "My expectation was to promote fast and begin generating passive income," Barbara said. The promotions started, and they kept coming. Barbara's past experience taught her a few things. "As previously involved in MLM and product-based businesses, I experienced how difficult it was to maintain the income. We all know what happened in 2008: the market crashed, massive layoffs, credit crunch, etc. My wellness business went practically out of business. People stopped buying my products, significantly hurting my income. With energy, everybody is looking for savings," she said.
But soon, there was another problem. Barbara was forced to put her Ambit business on hold for a while. "I put my business on hold due to the fact that we brought my elderly mother and disabled brother from Poland and had to organize everything for them here," she said. Barbara added, "Their income was very limited so we needed to provide them with full financial support. This was an additional reason for us to do Ambit." She didn't stop working though. "I stayed in the game by attending AMBITION and Simulcast events, and providing support to my active team members," she said. The end result showed her dedication to growing her Ambit business: she was promoted to Executive Consultant.
The path to Executive Consultant wasn't easy one. The first challenge was the most obvious one: Ambit Energy wasn't available in New Jersey, where she lived. "We started a Polish language Business Presentations in Brooklyn, and attending weekly presentations in Manhattan," she said. "It was not easy, but it was worth it," she added. Her efforts paid off because her team grew. The more she helped them, the more successful they became as Consultants. "At the beginning I felt responsible for other people's failures, but I learned that I can only provide tools and support to others and it's up to them to become successful," Barbara said.
Barbara stresses the importance of leading by example. "People in general are afraid to meet with you because they think you'll expect them to join something and they are afraid to say no to you. They should know that you do not really care if they join or not. Your goal is to share the information and show them what you do and what Ambit did for you and can do also for them," she said. While she has encountered some with doubts, her life and business are the examples she shows to others. Her advice to new Consultants is about leading by example. "Instead, invite them to take a look at what you are doing. This makes a huge difference."
---
Featured Consultant
At Ambit Energy, we're inspired, proud, and even awed by the success stories we hear from our Consultants every day. Learn what motivates some of our top Consultants, read why they decided that Ambit was the right company at the right time, and maybe even pick up some inspiring tips to help you build your own business and achieve a similar level of success!