The Light Goes On With Ambit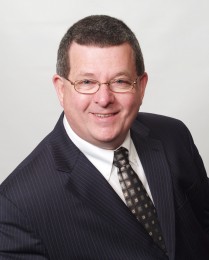 It's slightly ironic that Steve Miller began his career with another power company back in 1972. Shortly before he was due to retire, however, he was downsized, and had to consider a second career. Starting in 1992, he worked as a stockbroker, a banker and an insurance agent. But none of those careers gave him the sense of satisfaction and accomplishment he was looking for.
One day, he ran into a former friend from his old job in the electricity industry, now fellow EC, Randy Cox. The two of them decided it would be fun to work together again, and use their expertise in the energy business to build an independent business that they could pass on to their family while building teams and training people, the things they enjoyed from their old jobs. For them, Ambit was a natural choice.

Researching And Learning
Steve followed up his interest with extensive research, both on the Internet and through interviews with Ambit Consultants. "I learned that I was not in the electricity business, but truly in the people business," he says. "I am teaching people to see what I am saying. Not just hear it, but see it."

One of Steve's biggest challenges has been showing people how easy Ambit really is. "People tend to complicate the process and make it harder than it really is," he says. "If I can save you 25 to 40 percent on your energy bill and even show you how to get it for free, how much easier can it get? I just show Ambit in its simplest form."
And that's paid off. Steve looks forward to soon being able to achieve financial independence, enabling him to spend more time with his family and becoming even more deeply involved with the ministries at his church. "Reaching Executive Consultant is one of the proudest accomplishments of my life. I am so proud of the teams I have been able to put together."
The Power To Create A Brighter Future
As an Executive Consultant, Steve plans to build on his success. "I will be looking for specific target markets and helping with more local meetings. My plan is to build two to three Regional Consultants on a monthly basis, and have daily and weekly goals." Steve also has suggestions on how new Consultants can start advancing their businesses.
"Get plugged in, develop an accountability partner and work as team in everything you do. Always watch the videos in the Power Zone, attend local meetings and listen to conference calls and the Ambit Podcast. Ask questions and talk about Ambit everywhere you go." He also recommends attending AMBITION to get a complete idea of all Ambit has to offer Customers and Consultants.
It's sound advice and good inspiration from someone who went from working for an energy company to owning his own power business.
My "Why?"
I want to teach people to "Dream" again, and to be able to believe in themselves again, to create life options.
Time spent working our Ambit business:
All day, each and every day, make Ambit a part of who you are.
What was your single most-effective Success Tool, factor or influence for growing your business?
True teamwork is the single most effective success tool in my business.
Name your favorite thing about AMBITION.
It shows people what Ambit is all about
Thanks to the five SCs who help me reach EC:
John Houston, Julius and Jizell Bamibe, Erik and Diana Guitierrez, Jack and Anj Lopez and Luis Dominguez.
---
Featured Consultant
At Ambit Energy, we're inspired, proud, and even awed by the success stories we hear from our Consultants every day. Learn what motivates some of our top Consultants, read why they decided that Ambit was the right company at the right time, and maybe even pick up some inspiring tips to help you build your own business and achieve a similar level of success!