The Path to Finding the Right One From Energy Broker to Independent Consultant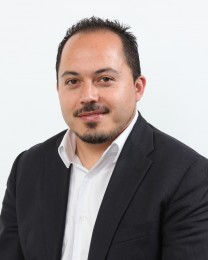 It was a series of what looked like failures that set Eric Rodriguez up for success. He's run various businesses as an entrepreneur. He's done everything from selling products over the phone to one of his last positions, starting his business as an energy broker. It wasn't until a friend told him about the Ambit Opportunity that he began to see things a little differently. "I have always been involved in multilevel marketing companies. But, I kept trying to find the right one," Eric said.
The choice of deciding on the right one wasn't an easy task for Rodriguez. After going through a painful divorce and being weighed down with $30,000 of debt, he was skeptical about choosing yet another multilevel marketing company. "I was tired of the multilevel companies and decided to start my own business as an energy broker with no experience of the industry, starting capital or knowledge," he said. But it was his experience as an energy broker along with his sales background that led him to decide that Ambit Energy may be a good fit for him. When he was initially approached about Ambit in 2008, he turned it down. Then, three years later, he accepted an invitation for coffee to learn more about the company again. "I had a bit more experience in the industry and I understood the power of a compensation plan," Eric said.
Developing a Personal System

It didn't take long for Eric to buy into the thought of trying Ambit as a business. Initially, he limited his involvement because of his past experiences with other companies. "With the other multilevel companies, I had lost credibility, time and money," he said. But, he quickly learned there was something different about Ambit that he didn't experience with the other companies. "It was working and the checks were coming in. It became a big help for my daily living giving me security," he said.
Eric thought it was best to start learning more about how to run his Ambit business, so he started to research and follow the examples of how other Consultants achieved success. He met as many Consultants as he could, attended meetings, seminars and Business Presentations, and listened to Consultants' testimonials. "I started believing in this business even more. I understood that anyone can do it and started to study the system little by little," he said. In that moment, his goal was simple. "I needed a way to get out of debt and prove to myself that I can do anything," he said.
The Challenge is in the Change
After doubling his hours in the business, Eric slowly started to see changes. "I began to study the system and assist in trainings. I decided it was time for me to invest more into my business," he said. "In 2012, once I decided to put more time into the projects, I saw my results double." With his persistence, Eric met his goal of reaching Executive Consultant in less than three years.
He saw how his life began to change the more he grew his business. He also can see how Ambit can affect the lives of others. "My new reason for building my business is how many lives and families can change with this Opportunity," Eric said.
Eric hopes his choice to ignore the fear of failure will prove to be an example for his Ambit team. "I hope to teach my team that Ambit is a lifestyle and few people dare to live it," he said. "You have to face the personal limitations that keep you in your comfort zone and don't allow you to go the extra mile to achieve your dreams and live a great life." There are a few other things that he thinks he can pass on to new Consultants to help them achieve the same type of success. Eric stresses that it's important to "stay focused on one goal at a time, attend training and business presentations weekly, learn how to create a check to your organization weekly and most important, have fun, enjoy and be excited."
Next Stop: National Consultant
Eric's success doesn't mean that he's reached all of his goals. There's still a few more that he's looking forward to knocking off his to-do list. Namely, he has his personal and team goals that he's ready to check off in the next two years. "I want my team to reach 1,000 Consultants and 5,000 Customers," he said. He combines those goals with earning his yellow jacket and joining the Millionaire Club.
Since joining Ambit, Eric says his outlook has changed for his future. "Ambit has given me great confidence and peace of mind. I know I'm in the right industry at the right time with the right company," he said. He knows that if he can make changes and achieve success that anyone can do it. He also knows there's one thing that he's learned about himself since beginning his Ambit business. "It has helped me to understand the process of success," he said.

Five EC Pieces
1. In one sentence, tell us your "Why?"
Financial freedom for my family.
2. How many hours a week do you work your Ambit business?
25 hours per week
3. What was your single most-effective Success Tool, factor or influence for growing your business?
Success Magazine and my personal testimonial
4. Name your favorite thing about AMBITION.
Jere and Chris' speech plus the announcements

5. Who are your five SCs who helped you reach EC?
David Lugo.
Imelda Palma
Claudia Valles
Beatriz López
Víctor Ortiz
---
Featured Consultant
At Ambit Energy, we're inspired, proud, and even awed by the success stories we hear from our Consultants every day. Learn what motivates some of our top Consultants, read why they decided that Ambit was the right company at the right time, and maybe even pick up some inspiring tips to help you build your own business and achieve a similar level of success!