The Plan to Save the Radio Station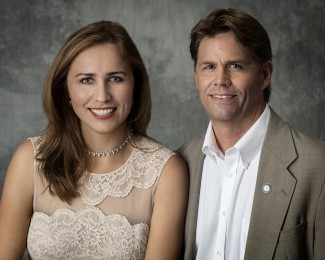 It was a plan to save their Christian radio station of 20 years that led Oksana and Daniel Johnson to their Ambit business. The funding for the station slowed as the economy experienced a downturn. Their station struggled to remain on the air. Daniel focused on fundraising and administration while Oksana continued her art career as an oil painter. It wasn't long before they started to brainstorm other ways to save their station. They knew they had to find a solution before New Life Radio-Moscow was forced to close.
The station was able to expand nationwide to all the former Soviet Republics after a successful period of time. Then, Oksana emigrated from Russia with Daniel in 2004. They settled here in the U.S., but maintained their radio station in Russia. Their funds were running low, and they needed an answer fast if they were going to provide for the station. "I had a strange dream of going into the energy business in Moscow, probably because the radio station was located across the street from Russia's state gas company," Oksana said. Of course it wasn't realistic, but it got her thinking.
The Quest for an Answer
They searched for three years looking for an answer. A solution seemed within their grasp after a friend came to their rescue. "Maureen was a supporter of our ministry and she knew about our situation," Daniel said. "She invited Oksana to a hotel presentation." Within minutes of being at the presentation, Oksana had an idea. This could possibly be the answer they needed to save the radio station. She didn't have her credit card to sign up, so she thought that surely that had to be a bad sign. Then, she had a stroke of luck. "I won a big screen TV during a raffle at a Business Presentation with Kim Mason. I figured it must be a sign!" she said. Oksana signed up to join the Ambit business the next week.
Her goals were simple: she wanted to cover their monthly necessities with the income generated from her Ambit business. Daniel soon joined the business and then they attended their first AMBITION. "After I saw the Co-Founders and how the company operated, I knew that I'd made the right decision," Daniel said. After two short years, their Ambit income was enough to cover their monthly expenses. That's when they knew that their Ambit business could change their financial situation .The impact would be tremendous. "We had three goals after seeing the possibilities of our Ambit income," Daniel said. "We wanted to help Oksana's family in Russia and the Ukraine, retire early and pay the bills at the radio station."
Building a House and Building our Business
The Johnsons know that building a business is a difficult and long process. They compare it to building a house, which they've done by themselves for the past seven years. "Like building a house, we have learned from past mistakes in building our Ambit business. We have a more refined strategy on reaching National Consultant status now," Oksana said. Even though it took them seven years to build their home, they never gave up. That same resilient spirit is what drives their desire to succeed at Ambit. "No matter the problems we encountered, we were undeterred because we focused on our Why. We knew we were going to make it in Ambit," Daniel said.
There are a few things they have learned that the Johnsons think would be helpful to new Consultants: learning the art of never giving up and exercising patience. "Don't be afraid of hearing the word "no". Don't let others determine how you will live and succeed in your future. We are living proof that perseverance pays," Oksana said. It's a piece of advice that has paid off wisely for the Johnsons. They think it can work for others as well.
Five EC Pieces:
Our "Why?"
Our "Why" remains our key goals of financing our Christian radio network, early retirement at 60, financially supporting our family in Russia/Ukraine, and keeping Oksana a full-time artist.
Time spent working my Ambit business:
We work our business every day, treating it like a million-dollar business, which is what it is!
What was your single most-effective Success Tool, factor or influence for growing your business?
Being trained by the best Consultants in the business on a regular basis, and having absolute confidence we could trust Ambit's Co-Founders to do what they said they will do.
Name your favorite thing about AMBITION:
Jere and Chris's speeches, because they reaffirm each time why we love this company and where it is going. And the food and company is great, too!
Thanks to the five SCs who helped me/ us reach EC.
Raisa Zhidkov - Erie, PA
Robert Campbell - Buffalo, NY
Vic Lobkov - Sacramento, CA
Jesse Laird - Altoona/Tyrone, PA
Mark Tarasov - Sacramento, CA
---
Featured Consultant
At Ambit Energy, we're inspired, proud, and even awed by the success stories we hear from our Consultants every day. Learn what motivates some of our top Consultants, read why they decided that Ambit was the right company at the right time, and maybe even pick up some inspiring tips to help you build your own business and achieve a similar level of success!