The Power of Perseverance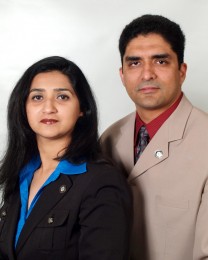 Life hasn't always been easy for Anwaar and Naureen Qureshi, but their experience truly demonstrates the power of hard work and positive thinking. Their family story begins when Anwaar arrived in America in 2000 with just $500 to his name, and two brothers, two sisters, a widowed mother a wife and new baby to support. The friends he was supposed to meet on arrival never showed up, but he was fortunate enough to find employment in New York, and later in Dallas where he worked as a data entry clerk. He earned a promotion, and was able to bring his wife and child to Texas. Later, he and Naureen moved to Atlanta, where he worked as a Night Auditor at a hotel, then later as a Mortgage Banker and novelty delivery company owner. He returned to Dallas in 2006 to work at car dealership while Naureen worked part-time and looked after their four children. Despite working up to 70 hours a week, Anwaar and Naureen were barely making ends meet-and then he had to undergo heart surgery. Unable to work, the family lost most of their savings."I'd gotten a business card from my friend, Executive Consultant, MD Rana and forgotten about it until I was home Christmas evening, very depressed about my financial situation when I found the card again. I went to the web site, and called MD afterwards. I was very excited."
Taking a risk, earning a reward
"I had to wait until I could get another paycheck and even skip a mortgage payment to get started. But it made sense to start the Ambit business for my wife, because most of what she made working went toward our daycare costs."The Qureshi's strategy paid off. Within five months, Naureen was able to be a full-time mom, and in September of 2011 Anwaar quit his high-stress job at the car dealership to work Ambit full-time, too. "I am able to spend great quality and quantity time with my family, especially my three-year-old daughter," he says. "Our family dream has come true in that we finish work and take part in all of the kids' school, sports and extra-curricular activities. I'm also motivated by the fact we had to sell some family property to cover our losses, and I have a personal goal of buying this back."
On track to a successful future
Naureen and Anwaar both see a bright future ahead. "Ambit has given us the opportunity to create a legacy for generations to come. Our goal is to take our business to the next level, to develop as many leaders as we can and double the size of our organization every year." Now, at last, a lifetime of hard work is paying off for the Qureshi's. "Our retirement life is secure, and we will be able to do things that were not possible under our previous circumstances."
Their advice to other consultants and prospective consultants is simple. "You cannot judge the depth of the sea by standing on the shore. You have to jump in. This business is capable of providing anything you want for life if you are persistent. Never, ever, ever, ever quit!" That's a life lesson the Qureshi's have lived to the fullest.
My "Why?"
Family and being in charge of our lives
Time Spent working Ambit
I make time to work on Ambit, "It's all about how much & what you want from your life."

What was your single most-effective Success Tool, factor or influence for growing your business?
The vision of the company and the leadership & legacy of the Thompson family was the factor that most influenced us to grow our business.
Name your favorite thing about AMBITION.
The circle of motivated & ambitious people that are making a positive change in their lives & the lives of others.
Thanks to the five SCs who helped us reach EC.
Imran Randhawa, Tanvir Tariq , Vincent Caballero , Anjum Ibrahim & Tariq Ausaf
---
Featured Consultant
At Ambit Energy, we're inspired, proud, and even awed by the success stories we hear from our Consultants every day. Learn what motivates some of our top Consultants, read why they decided that Ambit was the right company at the right time, and maybe even pick up some inspiring tips to help you build your own business and achieve a similar level of success!