The Process is the Real Payoff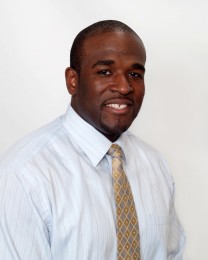 "With Ambit, yes the money is good," claims EC Clet Titus, "but if you're just in it for the money, you're missing the whole thing. This is about the person you have to become to be worth a million dollars, which is more important than having a million dollars."

Clet has learned a lot since he joined the business in July 2007. "If Martians came out of the sky and took Ambit away from me tomorrow it would be okay, because Ambit gave me a new philosophy that I didn't have before, and now I will always have. It's priceless!"

"I could never express enough gratitude to Chris and Jere for this business where I could find out so much about myself," he says, referring to Ambit Energy Co-founders—CEO Jere Thompson and Chief Marketing Officer Chris Chambless. He continues, very excited: "I know I'm going to be a millionaire because my mindset has changed."

How Clet got into the business
NYPD Patrolman of the School Unit in Brooklyn's Bed-Stuy Precinct 81 recounts, "I first heard about it from my sergeant [SC Sondra Duncanson] when I was leaving work one day. She asked if I wanted to hear about a business. I said 'no.' Then she asked if I wanted to save some money and I said 'yes.' I signed up as a customer and went home and told my friends about it. When I went back to my sergeant and told her I knew a bunch of people who wanted to save money, she asked me, 'Titus, why don't you do the business?'" So he got online and became an Ambit Marketing Consultant.

Clet's rapid rise
Four days later Clet had already promoted himself to RC. Within a month he was an SC. The day before Ambition 2008 began, he had promoted himself to EC. His goal is someday to take early retirement from NYPD so he can start helping people full-time with the Ambit Opportunity.

"When I first started I was on the phone with [EC] Chris Atkinson four or five times a day. He's the one who introduced me to [NC] Steve Thompson. We're very close friends now. When Chris and [EC] Debbie [Roy] come to New York, they stay at my house for a week. Steve stays at the hotel closer to where we hold the Business Presentations." Clet has been hosting Ambit Opportunity presentations in New York since shortly after he joined the business. He's recently started an Ambit organization in Albany, New York.

How did you do it, Clet?
"I failed really fast," he responds. "I tell people all the time: 'Fail faster. You're not failing fast enough.'" His key advice to new Consultants coming into the business is: "Discipline your disappointments. Don't get angry when people tell you 'no.' Learn from that failure and move on."

Clet also credits key team members for their dedication to helping people change their lives through Ambit, among them Senior Consultants Milton Davis, Eugene Kotorobai, Sigal Cespuglio, Angelika Gabrielov, Dr. Vinny Calderon and Gabriel Furman.
Clet's "WHY"
"My daughter is nine years old." He says when he first started, "I wanted to be able to give her stuff I never had. I wanted her to never have to work." But it didn't take long before Clet's attitude evolved. "Now I want to teach my daughter a philosophy. I want her to learn about financial freedom—why she doesn't need to work for someone else. I want her to understand she can be free. I want to help her see the future. If she can see the future, she'll start paying now so she can reap the rewards in the future. People will only do that if they can feel the future."

What Clet has found out about himself
"It's kinda cool. I found out about myself that I CAN! I have the ability to help so many people. It's just crazy! You'd be surprised at how far you can go if you just let yourself." Clet's reading a book right now that's giving him even more inspiration. The book, Clet says, claims, "We live two lives: the life we live; and the unlived life within us." He says "resistance" is the reason there is an unlived life within us. He credits Ambit with helping him discover that unlived life.

"I have a young kid in my business about 20 years old, RC Eli Whitehead," Clet marvels. "I look at how he's changing. He's breaking the boundaries of fear. He wants to get up early and stay up late talking to people. He's wanting to help people. It's the process. Ambit helps change people's lives!"

Clet Titus, future billionaire
"The other night I was having dinner with Steve Thompson," Clet says, "and I told him, 'I want to be a billionaire.'" But—and Clet truly believes this—"It's not about the money; it's the process."
---
Featured Consultant
At Ambit Energy, we're inspired, proud, and even awed by the success stories we hear from our Consultants every day. Learn what motivates some of our top Consultants, read why they decided that Ambit was the right company at the right time, and maybe even pick up some inspiring tips to help you build your own business and achieve a similar level of success!