The Right Opportunity at the Right Time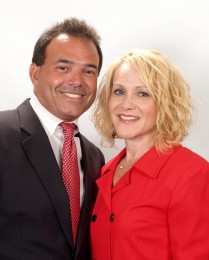 Leslie & JJ Hart had lived in New York City for 10 years when friends invited them to spend New Year's Eve in Corpus Christi, Texas. After a boat tour of the city's canals, and a drive along the Gulf of Mexico, they were ready to move south. And, when a house became available, that's just what they did.
Pulling up stakes and moving to a new place meant looking for new career opportunities. Leslie found a job selling condominiums, and one day she met Esther Spina, who was both a potential buyer and an Ambit consultant. Having already looked at a number of unimpressive direct selling opportunities, Ambit stood out due to its product and compensation structure. As Esther always says, "You don't have to explain to someone how to use electricity." After getting to know more about Ambit, the Harts signed up. They thought it would be a great part-time job for Leslie to supplement her sales income.
From part-time to full-time
For two years, Leslie worked her Ambit commitment around her job at the condo complex. Even so, the Harts soon found that their Ambit business was progressing extremely well. "We were fortunate to bring in some strong consultants into our downline who worked hard to become Senior Consultants. We tried to pass to them the same kind of guidance and instruction Esther gave us," Leslie says.
The Harts' hard work paid off, and in summer of 2011, Leslie started working her Ambit business full-time.
A growing opportunity
The Harts' personal background was another reason they were attracted to Ambit. JJ grew up and attended college in New York, while Leslie was from Texas. The fact that Ambit is active in both these major markets was a huge plus for this energetic couple. "We're lucky because our families are very supportive of everything we do," JJ states, "Our goal is to continue to build our business as we strive to become National Consultants. We will become more of a presence and plan to enter future states as Ambit expands its footprint. Our future with Ambit appears to be unlimited." Over the years, the Harts have learned some important lessons for success. Their advice for new consultants, "ask as many questions to as many leaders as possible. Plug into everything Ambit. Meetings, phone calls, Ambit University, trainings. Listen and learn. Be open and teachable. And be patient. Ambit is a marathon, not a sprint."
Our "Why?"
Future security, retirement
Time spent working Ambit
"Who really stops and starts working their Ambit business?" The Harts' hard work paid off, and in the summer of 2011, Leslie started working her Ambit business full-time.
Most-effective Success Tool, factor or influence for growing the Ambit business.
Talking to people everyday about Ambit, no matter where we go or what we are doing.
Favorite thing about AMBITION.
New ideas to help grow our business. Learning skills from those who are already successful leaders.
Thanks to the five Senior Consultants who helped us become Executive Consultants.
David Hutcherson, Michele Rice, Elizabeth McGregor-Rapp, Tamara Garcia, Tim Hutcherson
---
Featured Consultant
At Ambit Energy, we're inspired, proud, and even awed by the success stories we hear from our Consultants every day. Learn what motivates some of our top Consultants, read why they decided that Ambit was the right company at the right time, and maybe even pick up some inspiring tips to help you build your own business and achieve a similar level of success!