The Seeds of a Big Idea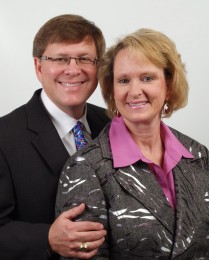 Ron Tamlyn knows from firsthand experience how hard work and determination can grow a major business from humble beginnings. His father started Tamlyn & Sons with an $800 loan and, together with his four boys, grew it into a major business with 60 employees, manufacturing metal products used in new home and apartment construction. Ron heads the company's Dallas operations.
"I've seen how you can start with very little and grow something significant if your timing is right, you have the right products or service, and you work hard." Ron and Elizabeth knew Jere Thompson Jr, co-founder of Ambit, through their kids' school, and when they heard he was starting a company they were ready to learn more.
"He showed me the business plan over a sandwich. He then paired me up with Brian McClure as my sponsor." With Ron's business experience, and Elizabeth's background as a former Director for School Nursing at the Mesquite Independent School District, the Tamlyns were ready to diversify their activities away from the volatile construction industry and develop a second, consistent source of income.
Growing Expectations and Results
As the Tamlyns' business grew, so did they're expectations. "Today, we have a bigger vision for our Ambit business. I've completed a screenplay for a film called "Christmas Isn't Christmas" and we'd like to fully devote our time to getting it produced in a few years," Ron says.
"We have not exceeded our goals yet, but we can see where we eventually will," Elizabeth adds. "Our residual income has been steadily rising as long-time Senior Consultants, and we very proud to have attained Executive Consultant on the very day our oldest son got engaged!"
Elizabeth and Ron credit Ambit with strengthening their leadership skills and improving their ability to serve others. Both those qualities are essential to helping other Consultants set their goals and stay focused. According to Ron, "We long to help others who want to better their financial situation do just that."
Looking Forward To Building Even Greater Success
Despite achieving a high level of success, Ron and Elizabeth are even more excited about what the future holds. "We want to help people race to Regional Consultant and Senior Consultant at faster rates.
And we'd love to win the Co-Founders Impact Award someday," Ron says.Their advice for new consultants is simple: "Never give up. You are one person away from changing your life. All five of our Senior Consultants came from one couple we met at a Home and Garden Show."
Ron goes on to explain that he and Elizabeth even overcame such major errors as business cards with the wrong phone number and failing to invest enough time in their Ambit business early on. "Some of you are probably saying no wonder it took so long for them to reach Executive Consultant, and you are probably right," Ron laughs.
Still, despite a few missteps along the way, Ron and Elizabeth are using the power of Ambit to move forward to their goals.
Our "Why?"
Enough residual income to devote our full efforts towards producing the movie Christmas Isn't Christmas.
Time spent working our Ambit business:
20-30 hours a week on average now. Less when we started—which was a bad decision!
What was your single most-effective Success Tool, factor or influence for growing your business?
Becoming better leaders.

Name your favorite thing about AMBITION.
The people—seeing friends we have made through Ambit. And the announcements!
Thanks to the five SCs who help us reach EC:
Bob and Lynda VanderDrift, Veronica Sites, Melton McKown, Keith Boyd, Pastor Sean Pinder
---
Featured Consultant
At Ambit Energy, we're inspired, proud, and even awed by the success stories we hear from our Consultants every day. Learn what motivates some of our top Consultants, read why they decided that Ambit was the right company at the right time, and maybe even pick up some inspiring tips to help you build your own business and achieve a similar level of success!