The Sky Is the Limit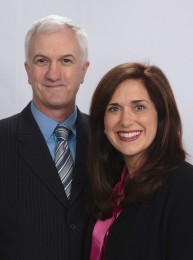 Prior to life with Ambit, Ron and Kim owned their own insurance agency, with 178 agents in 34 states. When the recession began in 2008, business took a significant downturn and the couple knew there was no way they could continue to support their family without something changing. "We knew we couldn't change our business model quickly, so we started looking for options," said Ron.
In 2011, a friend of Ron's called to tell him about Ambit, but Ron immediately shot him down, refusing to even look at the Opportunity. However, as Ron and Kim's insurance company continued to struggle, they knew they needed to consider a new approach. Without telling anyone, Ron decided to take a look at energy deregulation in late March 2011.
"We reviewed seven different companies over a span of two months," said Kim. "We researched the companies thoroughly." The couple looked at everything from when and how the companies started, to how they expanded, to the biography of the owner. "When we were done, Ambit rose head and shoulders, not only above the other seven companies, but above everything we'd ever seen!" The couple took a week to think and pray over their decision, and decided to join Ambit in May.
Ambit Exceeded Our Expectations
From their research, Ron and Kim knew quite a bit about Ambit by the time they joined, so they had no doubts about the business. "We knew this would work," said Ron. When the couple started with Ambit, they were focused on residual income, not weekly bonuses. They wanted an income that would cover all their core bills within five years. "We never imagined that on top of that, we would be on the cover of two Success from Home magazines, win a Pure Energy Award, get on the BP Honor Roll and take an amazing Five-Star trip to Punta Mita, Mexico, in April 2014," said Kim.
Now We Can Help Others
Ron and Kim both now dream of their future without financial restrictions. The couple has a passion for helping orphans in Africa and has set goals for achieving a level of success with Ambit that will enable them to help those less fortunate. As they continue to gain more and more financial freedom, Ron and Kim strive to build schools and medical centers in the poverty-stricken areas of Africa.
"It's amazing how many people die there when all they need to save their lives is just a shot or simple prescription that costs less than a few dollars," said Kim. "And the education system is so poor that they often cannot break out of the endless cycle of abject poverty that affects millions of people."
However, before they can focus on Africa, the couple must continue to grow their business. "Our goal is to raise our business to a new level and set the example for our team by our actions and not our words," said Ron. The couple is working hard to reach National Consultant and receive a Yellow Jacket in 2016. Ron and Kim know they have a lot to do between now and then, but they are committed. "The sky's the limit," said Ron. "We pray for growth as leaders and to develop many other leaders on our team."
My "Why":
To build medical centers and schools in Africa for underprivileged children/families. Also, we are privileged to be associated with Project Crossroad, which helps keep young people on the right path and out of the prison system. We believe for every one child saved from a life of crime and institutionalization, there is a future adult who will be a productive member of society.
Time spent working our Ambit business:
30+ hours per week
The single most effective success tool, factor or influence for growing our business:
Success from Home Magazine.
My favorite thing about AMBITION:
Chris and Jere's speeches. They are incredibly inspiring and they show their heart for the consultants.
Thanks to the five SCs who helped me reach EC:
Mark and Lori Kaupas, Dan Taylor and Tony Colangelo, Blake and Cheryl Whitcombe, Carol Zelmore-Reineker and Gail Duarte.
---
Featured Consultant
At Ambit Energy, we're inspired, proud, and even awed by the success stories we hear from our Consultants every day. Learn what motivates some of our top Consultants, read why they decided that Ambit was the right company at the right time, and maybe even pick up some inspiring tips to help you build your own business and achieve a similar level of success!