The Time Freedom Dream Comes True
Cong Zhao, Executive Consultant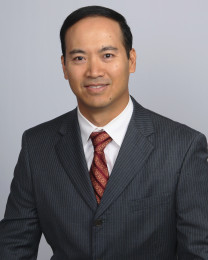 There's a lot to be said for a high salary. But, when the job comes with no time or freedom, it can be difficult to enjoy the money and perks. That's how Cong Zhao felt. "The job enabled me to buy three new vehicles and four houses in four years. So as far as a job goes, it was pretty good," Cong said. Yes, he had a nice salary, but he knew he wanted more: namely financial freedom and time freedom.
California Dreaming
Cong knew the Ambit Opportunity was for him when he heard about it. It was three days after the California market opened, and he started his Ambit business shortly afterward. With a background in energy trading and the fast growth in California, he saw the immediate potential of starting an Ambit business. "I knew it would be the best vehicle for me to achieve my goals," he said. His vision of a growing business prompted him to formulate a plan. He wanted to jump ahead, but decided to hold off a while. "I waited six months, then quit my job and moved to California so I could take full advantage of the ground floor opportunity that Ambit offered there," Cong said. During that six months, he was promoted to SC and had the advantages of a larger organization.
The move didn't come without it's challenges. Cong believed in the business, but it was harder convincing others. "Some of my close friends refused to take a look. Some did and thought I was tricking them," he said. It was an uncomfortable position. However, Cong knew each element of the Opportunity was a good one. And, his friends' reactions didn't stop or slow him down. "When it comes to dreaming, I have always been very audacious," Cong said. Even though that's the case, he had to hit the pause button after his first AMBITION.
A Dream Deferred
It wasn't long before Cong found the flexibility he'd been searching for with his career. "Due to a family member's health reasons, I had to move out of CA to a state where I couldn't do any Ambit business," he said. This new change proved to be his biggest challenge yet. However, it was one that he easily conquered. And, it was all due to his Ambit business. "I was able to give myself an 11-month vacation to take care of my loved ones. And thanks to Ambit, over that period, my Ambit business grew bigger every single month," Cong said.
There are other things Cong knows that he owes to Ambit. "In the last three years, I became a better listener. I gained a deeper appreciation on the diversity of people and I'm a more caring partner," he said. There's one thing that's more important than them all. "I always like to help people. Now thanks to Ambit, I can spend all my business hours doing just that," Cong said. He's happy to see that his long-time dream deferred has finally come true. He has the time freedom he's always wanted.

Five EC Pieces
More time for my spiritual life and my family
Time spent working my Ambit business:
Ambit is the only business that I spend time on. I work Ambit full-time if I am not on vacation, but I give myself plenty of vacation so I can spend more time with my family.
What was your single most-effective Success Tool, factor or influence for growing your business?
The Ambit business is so elegantly simple; all it takes to succeed is to keep doing it.
Name your favorite thing about AMBITION:
Listening to those inspirational speakers. They are not only helpful for our Ambit business, but helpful for our lives.
Thanks to the five SCs who helped me reach EC.
Zhizhen Li, John Sumner, Huadong Pang, Defeng Zhang, and Kevin To.
---
Featured Consultant
At Ambit Energy, we're inspired, proud, and even awed by the success stories we hear from our Consultants every day. Learn what motivates some of our top Consultants, read why they decided that Ambit was the right company at the right time, and maybe even pick up some inspiring tips to help you build your own business and achieve a similar level of success!