The Value of Hard Work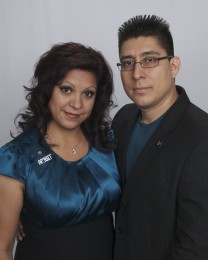 Mark and Olivia Guerra promoted to National Consultants on August 16, 2014.
We congratulate them on this remarkable achievement!
From their humble beginnings, this team has risen to the highest level Ambit recognizes, with a story that is sure to inspire.
Growing up in South Texas, Mark didn't have a lot of money. He did, however, learn the value of hard work. "We didn't have new clothes and brand name stuff, but we had something more important," he says. "My parents were there for my brothers and my sister no matter what. My mom always told me I could do anything I set my mind to." That spirit inspired Mark and his wife, Olivia, to achieve their goal of becoming National Consultants.
Driven by his desire to succeed, Mark went into business, supported by Olivia. He owned a home construction company, a limo service and a hotel. But despite their hard work, the Guerras felt like they never had enough time together, or with their growing family. When they heard about the Ambit Opportunity, they saw a chance to not only earn money, but to earn back time to spend with each other and their children. For the Guerras, Ambit has literally helped them achieve everything they dreamed. "We've had several 'Whys' along the way, but we have achieved all of them so we keep setting new ones," Mark says. And with this couple's track record, it's a good bet they'll achieve their latest ambitions, too.
---
Featured Consultant
At Ambit Energy, we're inspired, proud, and even awed by the success stories we hear from our Consultants every day. Learn what motivates some of our top Consultants, read why they decided that Ambit was the right company at the right time, and maybe even pick up some inspiring tips to help you build your own business and achieve a similar level of success!