The Winning Shot
Sam Miller, Executive Consultant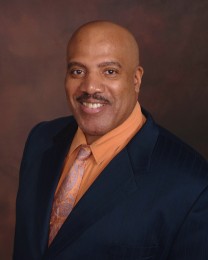 It was a chance encounter at a stop light that changed Sam Miller's life – he learned about how he could get paid doing something he enjoyed: helping people. Later that same night, he learned about the Ambit Opportunity and doesn't regret following up on an invitation from a woman at a red light. "She asked me to roll down my window and if I wanted to get paid for my gas and electricity. Then, she said come to this meeting tonight," Sam said. Once there, the information he learned was something he knew he could do and do well. "I was shocked, but I told myself if half of what I saw tonight is true, I'm going to kill this thing. I got into the business that night."
A Team Effort
Standing out in a crowd is familiar territory for Sam. As the 11th of 14th children, he was accustomed to showing being the go-to individual in large crowds. That trait transferred to his college life. As a standout college basketball player, he played four years of college basketball and spent some time as a semi-professional player before moving on to an award-filled sales career. "I love to train people and see them develop their skills," Sam said. That knack for training and educating others helped him garner awards in past positions as the top sales person, highest percentage of sales and top in customer prospects.
Ambit means more to Sam than just a way for him to become a part of a great company. It's also been the path that led him to the love of his life. Two years ago they met at AMBITION. "It's my hope that I'll marry her someday," Sam said. The decision to join Ambit is a move that he says has changed his life on a personal and professional level.
There are more than a few reasons that keep Sam going each day in his Ambit business. But, his biggest reason is the love of his life. "My why has changed many times, but now it's about my dream lady and giving her the lifestyle and love I think she deserves to have," Sam said. Ambit is what brought them together. He looks forward to the two of them building their Ambit business.
Blocked Shots and Rebounds
The biggest challenge was hearing no. However, Sam was accustomed to recovering and turning a no into a yes from his previous roles. It was a challenge, but one that he was able to change and overcome. "My biggest challenge was handling the no responses and getting my business off the ground," Sam said, "But now, I say not now, but eventually you will get into my business."
There are a few things that surprised even Sam with all of his experience. Namely, it was the patience he displayed while growing his business and also overcoming all of his fears. There are few things though that will change now that he's an Executive Consultant. "I'm still the same, but now I have all of the mistakes out of the way," he said.


The Finals
Sam has a new goal in sight. One that he knows is easily achievable. "I want to take
my business to the next level and build up my residual. I also want to quit my full-time job and be more effective as I continue my work with Ambit," he said. His next steps is to get to the big game, the highest level known as National Consultant. "I plan to travel more, have more one-on-one meetings and group home meetings," Sam said. This hasn't been an easy path by far, but Sam has one piece of advice for new Consultants. "You should get started right away and don't allow the negative people hold you back," he said.
Five EC Pieces
Time spent working my Ambit business: 2-5 hours a day

What was your single most-effective Success Tool, factor or influence for growing your business? The cold market.
Name your favorite thing about AMBITION: This year I'm on the big stage!
Thanks to the five SCs who helped me reach EC.
Kim Campbell
James & Tiffany Broadus
Johnnene Gay
Gaynell Boyd
Dosslin Baker
---
Featured Consultant
At Ambit Energy, we're inspired, proud, and even awed by the success stories we hear from our Consultants every day. Learn what motivates some of our top Consultants, read why they decided that Ambit was the right company at the right time, and maybe even pick up some inspiring tips to help you build your own business and achieve a similar level of success!