Three Weddings and a Success Story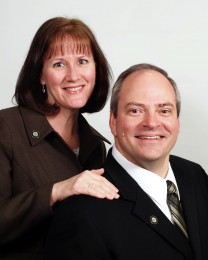 After graduating from college and seminary, Vincent Sawyer moved to Queens in New York. For more than two decades, he has served as a full-time pastor for a multi-ethnic ministry which includes members from more than 40 countries.
He and his wife Terri have three daughters and a son. And a few years ago, all three girls were attending private colleges at the same time, so additional income was more than a good idea – it was a necessity!
"We desperately needed a source of extra income," recalls Vincent. "And Ambit Energy became that vehicle to help our family."
INTEGRITY AND FREE ENERGY
A friend of Vincent's invited him to see the Ambit Opportunity, although he was "very skeptical" at first.
"But the more I looked into Ambit, the more impressed I was with what they had to offer both customers and Consultants," says Vincent. "I really liked the company's level of integrity, the perks for becoming a customer, and especially the opportunity for free energy – month after month and year after year!"
FROM DIPLOMAS TO WEDDING DRESSES
Vincent remembers his wife Terri's hesitance about Ambit at first. "But once those orange envelopes began arriving, she realized what a great opportunity it was!"
Once their daughters successfully completed college ("with NO debt," adds Vincent), it just so happened that each of them got engaged to be married. "Thanks to our blessings through Ambit, we were able to give each of them a beautiful wedding – all of them within a ten-month period, too!"
And the positive effects of Vincent's Ambit business continue throughout the family. Now that their son is beginning college, Vincent and Terri can rest assured that Ambit will help them afford to pay for his education.
"And most of my family lives in Connecticut, so we're hoping that someday soon Ambit will have service there – because my entire family and all of their friends are ready to enroll the second it's available!"
MAKING IT WORK
Although Vincent works Ambit part time, he makes it his goal to invite guests to at least one Ambit Opportunity meeting a week.
"When I began with Ambit, my expectations were to reach each of my goals – Regional, Senior and Executive Consultant levels – by working steadily and consistently."
"And my results have been pretty much on target with my expectations," claims Vincent. "I always expect a lot out of myself, and it's a blessing that with Ambit, you get a big reward for your hard work." Vincent is very appreciative of the Ambit people who have helped him along the way: "They've been so helpful and encouraging – always willing to take time to return a phone call or answer a question. The Consultants in my organization have been just great."
THE NEXT GENERATION OF CONSULTANTS
You can tell how much Vincent trusts Ambit – he's already enrolled each of his four adult children in his Ambit organization!
"That residual income is something that will help them for the rest of their lives," says Vincent proudly. "Another dream of mine is to travel to other countries to teach after I retire from pastoral ministry – and because of Ambit, I'll be able to achieve that goal too."
Within his organization, Vincent truly appreciates the Consultants who are working hard to build their own successes. And he still has a pair of goals: "To produce five Executive Consultants in the next three years – and to promote to National Consultant."
IT TAKES PERSISTENCE AND AMBITION
Vincent believes in the wisdom of "Slow and steady wins the race," and that's evident in his journey to success.
Of course, he didn't have any use for the "slow" part of the famous saying – since he rose through the ranks to Executive Consultant in just two and a half years.
"Work hard and steadily," says Vincent. "Don't ever quit, and you'll eventually achieve your goals."
And he encourages his team to attend Ambition because it's "inspiring, informative and especially helpful for new Consultants."
---
Featured Consultant
At Ambit Energy, we're inspired, proud, and even awed by the success stories we hear from our Consultants every day. Learn what motivates some of our top Consultants, read why they decided that Ambit was the right company at the right time, and maybe even pick up some inspiring tips to help you build your own business and achieve a similar level of success!