Tired of Waking Up at 3:00 a.m.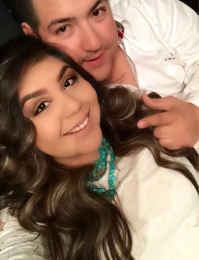 Tired of Waking Up at 3:00 a.m.
Erandy Montano had a very simple reason for pursuing the Ambit Opportunity. "Every job I tried, I had to wake up at 3:00 a.m. in the morning," she jokes.
Of course, the full story is more complicated than Erandy's aversion to early rising. She'd been working since the age of 14 to help support her younger brothers and sisters. And no matter how hard she worked, there was never enough left over to get ahead—sometimes there wasn't even enough to put food on the table. Just when she was at her lowest, with no money in the bank and fearful she wouldn't be able to continue caring for her family, she got a call from a friend. "I was invited to attend a presentation with Mark Guerra. I couldn't believe it. It was too good to be true. I was so excited that when I left I went out and brought 30 prospects back to Mark's office that same day. One week later I was a Regional Consultant. After five weeks I made Senior Consultant."
Erandy was off to a great start. But like everyone, she faced her share of challenges.
Rejected, but Persistent
For Erandy, the biggest challenge was dealing with rejection. Her own family and many friends were unable to see the opportunity she wanted to share. "I have learned this business is not for everyone," she says. "It's only for people who really want to better their lives."
She's done her best to pass that lesson on to her team. "I show my team members to never give up and to have perseverance and constancy. Never stop going to meetings and always stay connected with your team."
The results? Erandy proudly points to the families she has helped to achieve their goal of Financial Freedom.
Times to Come
Erandy is already looking ahead to the future. "I plan to reach NC by visiting new markets and having plenty of meetings throughout the week. I'm going to start over with the same mentality I had when I first started Ambit."
She advises new Consultants to remember that Ambit is a real career and to prepare to be successful in this business. And to never give up—"Every mistake, every push, every fumble, every setback motivated me to the next step," she says.
Now, thanks to her can-do attitude and hard work, Erandy sleeps soundly every night, financially secure, knowing she can support her family.

My/our "Why"
A better lifestyle.
Time spend working my/our Ambit business:
24 hours and 7 days out of the week.
What was your single most-effective Success Tool, factor or influence for growing your business?
To never give up even if the obstacle was too big.
Name your favorite thing about AMBITION:
The excitement of seeing other people take the same path to success.
Thanks to the 5 SCs who helped me/us reach EC.
Martha Rios, Argimisa Reyes, Elizabeth Montano, Obdulia Edith Reyes, and Nohemi Magali Garcia.
---
Featured Consultant
At Ambit Energy, we're inspired, proud, and even awed by the success stories we hear from our Consultants every day. Learn what motivates some of our top Consultants, read why they decided that Ambit was the right company at the right time, and maybe even pick up some inspiring tips to help you build your own business and achieve a similar level of success!