Too Busy to Find Success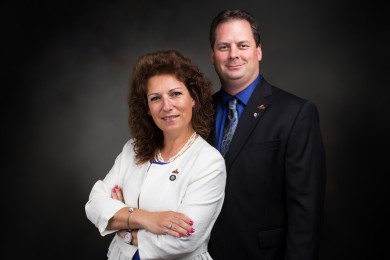 David and Elizabeth Finch are a hard-working couple. He has been working in his family's grocery business since he was 14, and she is the co-owner of a Physical Rehabilitation practice with 25 employees. They're also the proud parents of three very active children who pursue sports, music and other extracurricular activities. That left them little time for leisure, or to focus on building multiple reliable income streams.
"Traditional business is not stable in this economy," David says. "Having an alternate stream of income is a necessity to raise a family and realize your dreams."
"When I first heard about the Opportunity, I said I was not interested in adding any more to my plate," Elizabeth says. "But I watched the DVD at lunchtime. I didn't even get through half of it before my gut said to do it." In fact, Elizabeth was so excited she could barely sleep until her sponsor came to the house to sign her up.
Thinking Small, Going Big
Starting out, the Finches didn't have any big expectations. "We didn't have any network marketing experience," David says. "But after selling groceries all day I was just glad it didn't involve selling products."
"We knew from our traditional business experience that hard work leads to success," adds Elizabeth.
For such a busy family, time was the major challenge. "We make a conscious effort to do something every day for our Ambit business, even if it's just one phone call," the couple says. And their slow, steady progress has paid off. "Our biggest and proudest accomplishment is the purchase of an investment property in the Florida Keys. We never thought we'd be able to afford a piece of paradise." The couple is purchasing another investment property in Florida, all using income from Ambit.
Paying Off In More Than Money
"Our hard work in Ambit helped a person in our up-line spend time with his wife when she was very ill and in her last days," David says. "It makes us feel good that we are affecting other people's lives."
That's not the only way the couple has seen their work impact others. "We are able to push people to realize their potential even when they don't see it in themselves," Elizabeth says. "We've found that time limitations are what hold people back from doing the business. We show them it can be done."
For Consultants who are just starting out, David and Elizabeth recommend "Get in serious touch with your "Why." If you don't know why you are doing something, when you get a 'no' or feel time constraints you won't continue. This is a long term commitment, not a magic success pill. Plugging into live events and web trainings is essential to your long-term success."
It's good advice from a couple who have proven you're never too busy to discover new opportunities.
My/ Our "Why":
To be sure our kids don't have to struggle financially through college with large loans upon graduation.
Time spent working the Ambit business:
5 hours per week with active weeks going to as much as 10 hours per week.

What was your single most-effective Success Tool, factor or influence for growing your business?
Traditional business sense; that failure was not an option and most traditional businesses take 5 years to realize a profit.
Name your favorite thing about AMBITION:
The ability to network with other successful leaders and find out what works for them!
Thanks to the five SCs who helped in the journey to becoming an Executive Consultant:
A journey is a trek, a voyage, an expedition with a long road filled with bumps and difficult climbs to reach the top. A journey is best traveled and most successful when it is done as a team. If it wasn't for the company of our new found friends and business partners, the journey would not have been completed or worth completing. We want to thank them for all their hard work and dedication in seeing the big picture, staying focused without letting the potholes of life keep them from their personal journey!
---
Featured Consultant
At Ambit Energy, we're inspired, proud, and even awed by the success stories we hear from our Consultants every day. Learn what motivates some of our top Consultants, read why they decided that Ambit was the right company at the right time, and maybe even pick up some inspiring tips to help you build your own business and achieve a similar level of success!