Traveling the Right Path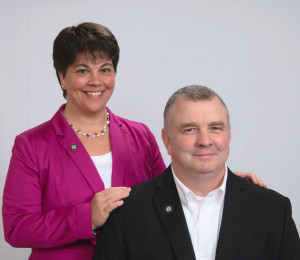 There's a time when you know you're headed in the right direction. That's how Mike and Jeni Sherrard feel about their decision to start their Ambit business. "We believe everything happens for a reason, and now, we've reached EC when it was our time," Mike said. With two sons and the desire to travel more, they knew they wanted changes in all of the businesses they own. Jeni runs their travel agency; Mike runs their auto transmission repair shop. It's a goal they've had for a while which led them to realize their "Why" might happen sooner than their original plan with their promotion to Executive Consultant. "My 'Why' has always been that Mike is able to retire from our business," Jeni said.
Putting in Overtime
The plan is to retire early now that their Ambit business has taken them to a new level in their business. "Mike has been working for over 23 years running our transmission business seven days a week 12-16 hours a day," Jeni said. "Recently, he's been able to cut back on his hours and travel with me because of Ambit." The growth in their Ambit business has allowed her agency to become a more specialized one. Less work was one of their major goals in the beginning. "When we started, our expectations were to work hard and cut back on our hours in our other businesses by making some extra money with Ambit," Mike said.
They recognize that time spent is a crucial part of increasing their knowledge about Ambit. "We would have put more hours into working on our Ambit business in the beginning. We see what investing more time has done and now since we are doing that consistently it has become a habit," Jeni said. It's a change that's paid off. "We are now able to see a light at the end of the tunnel and see our team growing which is going to make it a reality for us to travel and spend more time together very soon."
The Next Stop
"National Consultant is our next step, and we know it's not overnight and won't be easy," Mike said. Their strategy of reconnecting with Consultants who need help growing their businesses is one step they hope will help. "We've helped quite a few Consultants by continuing to reach out to them even if they are inactive," Jeni said. "We don't give up on anyone. Some have now promoted once or twice."
They've grown to love educating others about the Ambit business. "I wasn't one who would start talking about Ambit to someone I just met," Jeni said. "I will start a conversation with just about anyone to get this opportunity in front of them. Every day Ambit has strengthened me to go out and change someone's life." That strength is the piece of advice they'd pass on to new Consultants. "Don't let a no stop you or frustrate you. A no should keep you fired up and make you want to prove those who say no wrong," Mike said. So far, it's working for them.

Five EC Pieces
Our "Why?"
The chance to retire Mike from our business so we can travel a lot more.

Time spent working our Ambit business:
On average, every day from two hours to four hours.

What was your single most-effective Success Tool, factor or influence for growing your business?
Using the three-way call

Name your favorite thing about AMBITION:
The suspense of waiting for the announcements!

Thanks to the five SCs who helped us reach EC.
Kurt Sherrard
Chris Klark
David Bennett
Tim Pierce
Ruth Valone
---
Featured Consultant
At Ambit Energy, we're inspired, proud, and even awed by the success stories we hear from our Consultants every day. Learn what motivates some of our top Consultants, read why they decided that Ambit was the right company at the right time, and maybe even pick up some inspiring tips to help you build your own business and achieve a similar level of success!