Two Careers, Too Little Time Off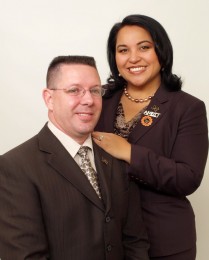 Rose Duncan worked for a major wireless phone carrier and her husband Kevin owned a software development company. They were working so hard to provide a good life for their six children they never had time to actually see their kids. In fact, the two of them were so busy with their careers and family they didn't think they could take on another challenge.
"I said 'no' to the Ambit opportunity three times because I was happy with my job and Kevin was a successful business owner," Rose recalls. "Then I met a lady at a volunteer function who didn't have a full-time job, but she did have a paid-off Escalade. I asked her what she did and the rest is history!"
Rose attended a presentation in Round Rock, Texas and signed up. "I realized this was the deregulation of energy and the deregulation of telecom was the only reason my job existed—if this is what I thought it could be, I'd better get in on the ground floor."
Investing A Little Time For A Big Payoff
At first, the only time Rose could commit to her Ambit business was during her daily commute. But as the business grew, she started spending more and more time with Ambit. "We soon knew that our 'Plan B' income would grow faster than my 'Plan A' paycheck from work," Rose says.
The two also enjoy working as a couple. "We have been married for 20 years, but we had no idea how much we complement each other as a couple before Ambit," Kevin says. "Rose is very outgoing and loves recruiting new Consultants. I'm more detail oriented."
Eventually, Rose was able to quit her telecommunications job, work Ambit full-time and raise her family. Their goal is for Kevin to be able to retire from his software company in the near future.
A Program For Success
Moving ahead, the Duncans look forward to growing their Central Texas network and expanding their Northern California network, as well as moving into newly deregulated markets.
"The great thing about this business is the formula for success is the same at every level. We will continue to teach the 5-2-6 to new Consultants, and to be readily available to answer questions and give advice," Rose promises.
The couple also has advice for new Consultants. "Don't give up before you started. Some people get discouraged and retreat to the safety of their jobs because they believe it's easier to have a boss than business."
It's a good advice from a couple who went from not having time to invest in running an extra business to having extra time to spend with their family, enjoying the payoff of their work.
Our "Why?"
To have more time to spend with family & money to spend on family.
Time spent working our Ambit business:
Then: 15-30 Minutes every day (While I was still working full-time at Verizon Wireless)
Now: 15-30 Hours every week (Once I was free to work Ambit Energy anytime I wanted)
What was your single most-effective Success Tool, factor or influence for growing your business?
The support we gave each other while building our business.
Name your favorite thing about AMBITION:
Being around thousands of other consultants that are just as excited to be a part of Ambit Energy as we are.
Thanks to the five SCs who helped us reach EC.
Ed & Angie Sablan, Joe & Josephine Derby, Evelyn & Bond Flaris, Fred & Evelyn Torres, and Richard & Marietta Fuess
---
Featured Consultant
At Ambit Energy, we're inspired, proud, and even awed by the success stories we hear from our Consultants every day. Learn what motivates some of our top Consultants, read why they decided that Ambit was the right company at the right time, and maybe even pick up some inspiring tips to help you build your own business and achieve a similar level of success!