Unable to Bear the Wall Street Bull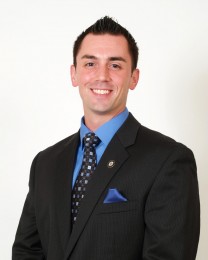 Rob Giamboi had what many might consider a dream job, working for a prestigious hedge fund on Wall Street. But he was unhappy and stressed out. He missed using the values of teamwork, leadership and commitment that he'd developed as a member of the U.S. Marine Corps, and longed to find a career that would be more emotionally rewarding. Because Rob taught mixed martial arts in his spare time, he hoped to open a school and teach MMA. Just when it looked like he would achieve his dream, the banking collapse of 2008 left him without funding.
Though disappointed, Rob didn't give up. He started researching other business opportunities that would allow him to make money without quitting his job. It was about this time his old high school friend Rob Verardi introduced him to the Ambit opportunity.
"What impressed me was that I didn't have to sell anything. My potential customers were already using my product and already paying for it. I wasn't asking them to reach into their pocket and pay for something they may or may not need—especially in these current economic conditions." And as an Ambit Consultant, he'd be able to put his leadership skills and commitment to teamwork to good use.
Fighting To Make A Dream Come True
When Rob started to work with Ambit, his goal was to raise enough money to open his MMA school. "It's completely changed now. It's about FREEDOM. I have the opportunity to create my own life and my own success." In fact, Rob's Ambit business has grown so rapidly he is working on a way to transition out of his job at the brokerage firm. "The dread of having to go to a job I don't like for the next 40 years is gone," he says. "I've learned how to recognize an opportunity. There's no more getting up at 5:30 a.m. to travel two hours to a job that doesn't excite me."
Of course, the journey wasn't always easy. Many of Rob's friends ridiculed his decision to start his Ambit business. He had to get over a fear of public speaking, and work hard to learn the Ambit system.
Once he'd invested the time and effort, though, Rob found success came quickly. "To be an Executive Consultant after only two years means I completely exceeded my expectations."
Making A Winning Investment
Rob advises new Ambit Consultants to make sure they are completely trained before they try to sell, and to always follow the system. "Become a professional inviter and maximize the number of people you share the business with. Role play with your fellow Consultants until you sound natural and not rehearsed. Really, we get paid to do two things, so doesn't it make sense to get really good at those two things?"
Rob's goal for the next AMBITION is to have 50 people on his team attend, and he sees reaching his goal of having a five-figure month in the next year. The bottom line is that after nine years of working on Wall Street, Rob saw that the best investment was in himself.
My "Why?"
My mixed martial arts school initially…now it's simply FREEDOM!
Time spent working my Ambit business:
5-7 hours a week.
What was your single most-effective Success Tool, factor or influence for growing your business?
Not quitting thanks to a phone conversation with EC John Nicolauo.
Name your favorite thing about AMBITION:
The announcements!!!
Thanks to the five SCs who helped me/ us reach EC.
Dominic Light, Tommy Moudatsos, Lee Moudatsos, Loretta Giamboi, and Ryan Kiena
---
Featured Consultant
At Ambit Energy, we're inspired, proud, and even awed by the success stories we hear from our Consultants every day. Learn what motivates some of our top Consultants, read why they decided that Ambit was the right company at the right time, and maybe even pick up some inspiring tips to help you build your own business and achieve a similar level of success!