Wanting to Do Better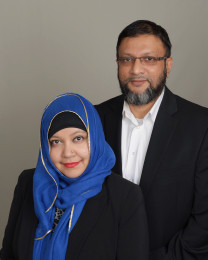 Wanting to Do Better
Wasim and Farkhanda Zaman wanted a better life. Both came to the United States as students and worked hard to attain degrees, Farkhanda in Computer Science and Wasim in Electrical Engineering. After college, got good jobs with Fortune 100 companies and appeared to be headed for success.
But, as is often the case, things changed. The young couple became parents, and Farkhanda wanted to be a full-time mother. With increased expenses, the couple found themselves living paycheck-to-paycheck despite a good income. They needed to find an income opportunity that would give Farkhanda the flexibility to still spend time with the children.
That's when another couple told them about Ambit Energy. After thinking about it, Farkhanda invited the couple over for a presentation. "After watching the Ambit Opportunity video, I decided to give it a try," Farkhanda says. "For Wasim, it was a leap of faith, but he was willing to sign up based on my recommendation."
First Steps and Challenges
"Our journey to RC was very fast," Wasim recalls, "but becoming SCs took a lot of faith and patience." In 2015, Wasim became ill, and in 2016 his mother was diagnosed with a terminal illness. Taking time to recover, and then to care for his mother slowed the couples progress. Yet at the same time Farkhanda says "Getting the residual income and Free Electricity were a big help and motivation to continue while facing these challenges."
Through it all, Wasim and Farkhanda persevered and after more than two years they achieved Executive Consultant status. "We are blessed with great friends and family who have helped us tremendously," they say. "We've met so many wonderful and fascinating people. One thing that touched our hearts is that is not your family, culture, ethnicity or country, rather humanity and faith that unites us together."
The Rewards
For Wasim and Farkhanda, the rewards of Ambit are far more than financial. "The ability to help other people, the freedom from working nine-to-five, to take care of our children and to support our charity project the Sabrina Memorial Foundation which supports underprivileged women and children—this is why we started and continued with Ambit."
Five EC Pieces
My/ our "Why?"
Living life according to our passion, to serve God Almighty and humanity at large.
Time spent working my/ our Ambit business:
About five hours a week.
What was your single most-effective Success Tool, factor or influence for growing your business?
Friends and family.
Name your favorite thing about AMBITION:
Training sessions and networking opportunity.
Thanks to the five SCs who helped me/ us reach EC.
Dr. Musa and Suhail Varwani, Jelil Atiba, Ufuoma Omaye and Rabiul Sohail.
---
Featured Consultant
At Ambit Energy, we're inspired, proud, and even awed by the success stories we hear from our Consultants every day. Learn what motivates some of our top Consultants, read why they decided that Ambit was the right company at the right time, and maybe even pick up some inspiring tips to help you build your own business and achieve a similar level of success!