Why Ambit Computed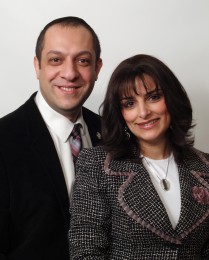 For years, Shimon and Olga Kaylyakov ran a "mom and pop" computer repair shop in Queens, New York. The business was modestly successful, and in 2008 they borrowed money to expand to three stores—only to see the economy crash. A year later, they were in debt, back down to one shop, and struggling to support their growing family.
It was about that time that Shimon went to visit a friend's clothing store and spotted an Ambit flyer. He asked his friend what the brochure what it was about. The friend said he wasn't interested in Ambit, and Shimon could take the flyer. Shimon says "I figured, 'Hey, I'm broke, in debt, what do I have to lose? Let me make the call.' So I did." Later that same night, he attended a presentation at a local hotel.
"I was blown away," he says. "At the presentation, they asked the Regional Consultants, Senior Consultants and Executive Consultants to stand up. I said 'If they can do it, so can I!'And I decided to get started immediately."
Surprising Friends, Surprising Results
Many of Shimon and Olga's friends were surprised they had chosen to go with Ambit because over the years they had turned down offers to sell vitamins, creams, juices, pills, water filters and other products. But the couple knew that Ambit truly represented an opportunity to achieve financial freedom, because it's based on a product that people use and need every day.
They also feel that their attitude about network marketing makes them more effective salespeople. "We understand where many people come from because we have been there ourselves and we feel our job is to pull them out of being a sheep in the herd of society," Olga explains. "The lessons you learn in Ambit help you in all aspects of your life."
"We have really discovered ourselves because of Ambit. We never knew what we are capable of. We now realize there are no limits," adds Shimon.
A Program For Success
Shimon and Olga have set new goals for themselves, and have ideas to help other Consultants achieve a similar level of success. "Honestly speaking, our goal is to have a yellow and purple jacket. If along the way we become National Consultants, then great!" They also hope to become better at developing leaders on their team. Finally, they hope to complete their dream of complete financial freedom and support their favorite charity, TorahAnytime.com. For other Consultants, their advice is simple—patience and persistence. "This opportunity is not for everyone. It is for those who are truly serious about positive change. You have to emotionally detach yourself from the decisions others make."
They also believe in attending AMBITION. "The success of other people inspires us," Olga says. "Definitely attend as many events as possible."
With Ambit, Shimon and Olga have not only repaired their credit and recovered from the loss of their computer stores, they calculated a new path to financial freedom with Ambit.
Our "Why?"
To achieve our desired lifestyle and support a nonprofit project we are very passionate about called TorahAnytime.com
Time spent working my/ our Ambit business:
30+ hours a week.

What was your single most-effective Success Tool, factor or influence for growing your business?
The Success of other people inspires us! So definitely attending as many events as possible.
Name your favorite thing about AMBITION:
Announcements
Thanks to the five SCs who helped us reach EC.
Rubin Kaylyakov, Yosef Shamayev, Ryan Kunj, Nina Kaylyakov, and Dan Bellair
---
Featured Consultant
At Ambit Energy, we're inspired, proud, and even awed by the success stories we hear from our Consultants every day. Learn what motivates some of our top Consultants, read why they decided that Ambit was the right company at the right time, and maybe even pick up some inspiring tips to help you build your own business and achieve a similar level of success!