Why Not?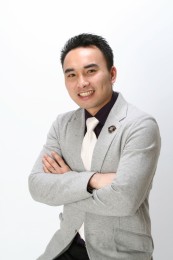 When Kelvin Nguyen first heard about the Ambit Opportunity, he asked himself a simple question: "If others can succeed in this business and gain financial freedom, why not me?"
Shortly after being introduced to Ambit by his brother Vuong Nguyen, Kelvin was off and running. "Ambit was fairly new in Massachusetts when I joined the company and there weren't many business presentations or trainings in the area. So I started to host in-home meetings, got good coaching from Executive Consultant Lien Nguyen, National Consultant Frank Schmaeling and most of all, great support from my wife and my business partner Jenny Nguyen."
Despite the demands of full-time jobs and raising four children, Kelvin and Jenny were able to rapidly build up a loyal following of Customers and Consultants—in fact, they fast-tracked their way to being both Senior and Executive Consultants.
Support System
One advantage Kelvin had was the immediate support of his friends and family. His brother had already explained the opportunities of deregulation and the advantages of selling a product that didn't require carrying inventory. Still, there were challenges. Kelvin had to develop his sales skills and build up his confidence as he worked to recruit Consultants.
Appreciating the value of a good support system is why Kelvin makes sure he is always there for his downline. "I am just a phone call away. When my teammates need my help to recruit a potential Consultant, I try my best to accommodate them. I explain in simple terms what is required to them to grow and succeed."
What's Next
After fast-tracking to EC, Kelvin is giving himself a little more time to reach NC. He's set a goal of five years, and plans to reach his goal by hosting additional meetings and expanding his networking efforts into new markets.
For Consultants seeking to build up their businesses, Kelvin says to "be consistent, make connections, be honest and believe in yourself." The payoff? Financial freedom, and more time to enjoy with your family.
After all, what's the point of fast-tracking to the top if you don't take time to enjoy the view?
Five EC Pieces
My/ our "Why?"
Financial freedom and work- life balance.
Time spent working my/ our Ambit business:
Part-time
What was your single most-effective Success Tool, factor or influence for growing your business?
Simple rule of three
Name your favorite thing about AMBITION:
Training and networking
Thanks to the five SCs who helped me/ us reach EC.
I would like to say thank you to Tien Tran, Vinh Nguyen, Bruce Luong, Andy Tran & Huong Tran who are very passionate about growing their SC businesses to reach the Executive Consultant position.
---
Featured Consultant
At Ambit Energy, we're inspired, proud, and even awed by the success stories we hear from our Consultants every day. Learn what motivates some of our top Consultants, read why they decided that Ambit was the right company at the right time, and maybe even pick up some inspiring tips to help you build your own business and achieve a similar level of success!