Worth the Shot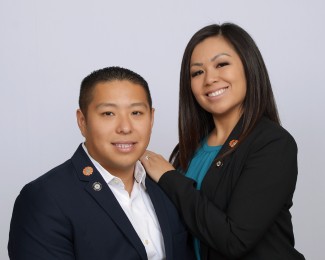 As a police officer in Pearland, Texas, Davis Vo and his family relied on extra jobs for most of their income. His wife, Xuan, was a stay-at-home mom and helped raise their two kids. Terry Thedford was Davis' partner on the force for many years when he presented the Ambit Opportunity to them. "He was working several extra jobs," Davis says, "and I saw him quit them all." He joined Ambit the day after Terry introduced him to the business and about one month later, he was able to give up all his extra jobs.
Davis had seen other network marketing businesses in the past, but he was skeptical. After learning about the Opportunity, he knew Ambit was different. "Other network marketing businesses had a $500 start-up fee. Ambit was only $75, and I felt it was worth the risk to give it a shot. I'm glad I did!" he says.
Reaching Their Goals
Davis' initial goal, other than to build a team and be a leader, was to supplement his income so he would be able to spend more time with his family. But with the help of Ambit, he far exceeded that goal. Together, the Vos are working to keep Davis home permanently to work the Ambit business.
As a family, they have other goals in mind as well. Last year, they set goals to be promoted to EC within the year, to by a new car, to take a trip to Disneyland or Disney World, and to buy a big house. They were able to achieve everything on their list, except for the house. "We are ONE STEP CLOSER to buying our dream home!" they say. The Vos are now working on a new vision board, and they are exited to accomplish those goals, too.
Never Give Up
Davis and Xuan were successful when they started their business. They were able to fast track their way to RC and SC, but just missed the fast track to EC by one month. They had to put their business on hold at times, due to being so busy with their children and Davis' work schedule. But with the help and motivation from their upline, they were able to stay on track.
The Vos understand how difficult it can be to hear the word "no" but want to encourage other Consultants, like their upline did for them, to "never give up and never get discouraged!" They hope to reach out to people in Japan and expand their team internationally and now have their sights set on becoming NCs and helping as many people as they can along the way.

Five EC Pieces
Our "Why?":
Our why is our family.
Time working our Ambit business:
We dedicate one hour every day to our business.
What was your single most-effective Success Tool, factor or influence for growing your business?
Listening to the advice of our upline and Ambit leaders has greatly influenced how we run our business.
Name your favorite thing about AMBITION:
We love the giveaways and getting to spend time with our team.
Thanks to the five SCs who have helped us reach EC:
Mathew Vo
Peter Nguyen
Tara Soileau
Hoang Vu
Kimberly Hamilton
---
Featured Consultant
At Ambit Energy, we're inspired, proud, and even awed by the success stories we hear from our Consultants every day. Learn what motivates some of our top Consultants, read why they decided that Ambit was the right company at the right time, and maybe even pick up some inspiring tips to help you build your own business and achieve a similar level of success!