Writing Her Ambit Story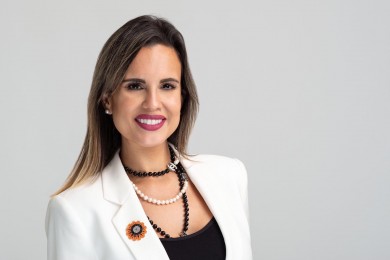 In Venezuela, Maria Gomez was a top-rated journalist. She was employed with one of the leading national TV stations in the country and she published with the national newspaper. However, when her family was forced to leave her home country, she knew it was time to start over and write a new way of life. "I came to the USA as a student of my second career in International Business which gave me the opportunity to get a job in the oil and gas industry as a marketing coordinator," Maria said.
Maria's life is one of triumph and testimonies to challenges. "The contrast and drastic changes of circumstances in Venezuela made me more courageous," Maria said. She remembers her childhood growing up in Venezuela fondly, but also says that while it's a beautiful country it's been faced with difficult times in the last decade that have forced families to look for a better future elsewhere. "Everything changed for me in 2008 when I traveled as an immigrant and not a tourist," Maria said.
Redefine Yourself
Maria realized that she would have to make a change in her life. And soon. "My back was against the wall," she said. But, Maria relied on something she figured out early on in her life. "I have always been a dreamer and found a way to make it happen," she said. So, she prepared herself to start from the beginning. It was what she knew had to happen. "When you immigrate, you redefine yourself because you have certain limitations at the beginning," she said, "And, you also realize that who you were in your country is left there: your name recognitions."
It was a former co-worker who first mentioned Ambit to Maria. Sure, she didn't have a problem watching. She was more than happy to do this person a favor. But, it turned out a bit differently than she expected. "I ended up doing a favor for myself," she said. It was also the draw of residual income that seemed almost impossible to believe. "I saw the residual income chart, and all of sudden I could see my dreams coming back to reality," she said. She compared it to "a light at the end of the tunnel."
Maria expected results, but she didn't expect to replace the income from her job. "There was a system and I just had to follow it so I had to become that leader that the community needed," she said. Community was the place she saw herself becoming a leader because she saw the need, and potential to educate others about the power of Ambit. "I have worked hard to make others understand this is their business, the legacy for their future generations and a profession as reputable as the ones they may currently have," she said. She's also found that Ambit has given her more than income. "I found in Ambit Energy Financial Freedom, peace of mind and also a partner in life, Executive Consultant and top income earner, Bobby Aymes. I think that is a huge way to exceed my expectations."
A Different Business
Ambit has helped to change Maria's outlook for the future. The chance to learn, grow and explore different things has given her a different outlook, confirmation of her wildest dreams. Those dreams include hosting a local TV show for months, co-authoring a book in English, visiting schools to motivate refugees and immigrant students, helping charity students and even one other huge one. "I was able to be the stand-in for Sandra Bullock in the movie 'Our Brand is Crisis' in New Orleans," she said. With any other job, she wouldn't have had that the time to do those things. But with Ambit, she had the available time during the week to travel to the set. Ambit paved the way for her to do the things she enjoys because she's learned how to manage her time.
Maria's new role has inspired her to continue to help others do the same. It's made her see that she can be an example to others. However, her new role hasn't changed her. "I used to see Executive Consultants as an untouchable group. Now, I'm one against the odds," she said. "I am the same person, with the same virtues and flaws, but with the extra confidence that this company rewards the effort and commitment of those that are in for the long haul."
Through it all her experiences have changed her. They have changed her for the better. "I see greatness in every possible way. It is inevitable when you are surrounded by people of the caliber that you find in Ambit Energy," Maria said. Her advice to new Consultants can be summed up in a few words. "Protect and defend your dream as much as you protect your family," she said. But, she cautions you to keep going despite challenges. "It is not the size of our dreams that makes us big, but the ability to work toward them in spite of the obstacles," she said.
Five EC Pieces
My "Why?"
Family and quality of time with them. Traveling the world and exploring more cultures.
Time spent working my Ambit business:
Some days for a few minutes. Some days from the moment I wake up to the second I fall asleep. I do something every day.
What was your single most-effective Success Too, factor or influence for growing your business?
Hard to choose. It would have to be my "why." The burning desire to make my family happy.
Name your favorite thing about AMBITION.
Seeing many lives changing. It moves me and inspires me over and over again.
Thanks to the five SCs who helped me reach EC.
My dad, Edgar Gomez: my inspiration. Thanks for trusting me with all of your contacts.
Odalis Olchowy and her supportive husband, Lee
Yamaira and Morel Perez
Iris and Dirck Hornung
Gaby and Junior Urdaneta
---
Featured Consultant
At Ambit Energy, we're inspired, proud, and even awed by the success stories we hear from our Consultants every day. Learn what motivates some of our top Consultants, read why they decided that Ambit was the right company at the right time, and maybe even pick up some inspiring tips to help you build your own business and achieve a similar level of success!